Ivy, that pervasive, unrelenting evergreen, is a fitting motif for Amoako Boafo's journey to partnership with Dior.
Kim Jones is arguably the most important menswear designer today. At the top of his game, he brought Louis Vuitton into a new era (that way paved in part by Mr. Marc Jacob, of course), then vacated the position, which he left in the brilliant hands of hypemaster general, Virgil Abloh, and took the reins from Kris Van Assche at Dior Homme (which he promptly rebranded 'Dior Men'). Eleven collections later, and ground has been broken with each and every one. His keen eye for collaborations has been a key tenet in revolutionizing the brand, teaming up with such disparate artists as street-centric Brian Donnelly (otherwise known as KAWS), skate-centric Shawn Stussy, Japanese illustrator Hajime Sorayama (best known for his series of paintings featuring a female robot form), American artist Raymond Pettibon (who achieved fame for his album covers for punk bands in the 1970s), and multidisciplinary artist Daniel Arsham, who combines art with other artistic disciplines such as architecture and performance. Kim's proposal for upcoming Fall 2021, which recently walked, was an exquisite synthesis of Haute Couture techniques in embroideries and embellishments, with custom artwork by the renowned figurative painter Peter Doig, who Kim's been obsessed with since he was a teen. But all that's yet to come. This spring, the collection is all short shorts and silk shirts, or sheer vests adorned with the 'Dior' archive pattern he revived in his first collection for the House (Spring 2019) stitched in shaggy cream or pink needlepoint, teamed with sandals and striped cummerbunds, of course. The standout silk shirts are white with a woven green ivy, almost iridescent. That shirt was a reference to 36-year-old Ghanaian artist Amoako Boafo's painting of a boy in a similar ivy-print shirt and beret. Kim had wanted to collaborate with Amoako on the collection after meeting him in Miami in 2019. It was seeing this painting with the ivy shirt – which was a symbol used by Christian Dior, and the beret, that was notable in his Pre-Fall 2020 collection – that cemented the collaboration. We caught up with Amoako to talk partnership, process, and the protests that changed the world.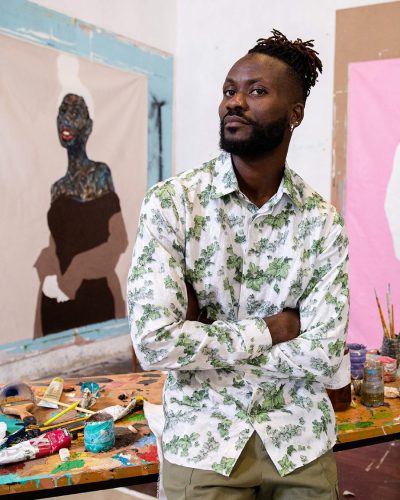 I really love Kim's work and Kim was impressed by my paintings. He discovered them in December 2019 when he did his Fall 2020 show in Miami. The conversation started there, right after the Rubell Museum opening where I was introduced to Kim by Mera and Don Rubell. As a fashion lover, I get drawn by the characters that I paint when they have a sense of fashion. I get connected. I think that fashion is a vehicle for art, and art can be a vehicle of empowerment for individuals. This has been a momentous creative opportunity for my career and for the future of my art.
The collaboration with Dior is my very first collaboration with a couture House but I have been always attracted by fashion, by the way how people dress, and this is clearly visible in my paintings… the use of colors, the patterns, the graphics.
I was thrilled, of course. And surprised. It was difficult for me to process all that was happening, and how quickly the collaboration started and clicked.