It's been 20 years since LVMH chairman and CEO Bernard Arnault first approached jewelry designer Victoire de Castellane to propose Dior Haute Joaillerie. With 14 years spent overseeing Chanel's costume jewelry division alongside Karl Lagerfeld, de Castellane has since established Dior's high jewelry as some of the most sought after in the world. With much inspiration drawn from the life and legacy of Christian Dior, like the pink walls of his childhood home, his love of flowers and gardens, like those of his beloved Chateau de La Colle Noire near Grasse, and the fine fabrics found in his couture collections, like lace and gold thread, de Castellane has also established her own codes, most notably asymmetry – her mismatched earrings have inspired other brands by the dozen.
With loyal customers and bona fide collectors across the world, this auspicious occasion called for celebration. The brand brought its most esteemed clients to Venice to present de Castllane's latest collection – Gem Dior – a play on the french phrase 'j'aime' meaning 'I love', and a reference, of course, to 'J'Adore [Dior]', the iconic fragrance that was also launched 20 years ago. Behind the baroque walls of the Palazzo Labia, models in nude-colored Dior dresses designed especially by Maria Grazia Chiuri wore the new collection of jewels. Unlike anything de Castellane's done before, the gems were set like abstract art – clusters of stones that looked perhaps as if they'd just been sprinkled on ears, fingers, and wrists, and set where they fell.
During dinner, the models wore black, and walked about the guests seated across sprawing rooms like the intimate fashion shows of Christian Dior's early days, surrounded by the frescoes of prolific rococo painter Giambattista Tiepolo, 'the greatest decorative painter of eighteenth-century Europe.' Afterwards, we sat down with the woman of the hour to talk history, sensuality, and the beauty of chaos.
"It was a word play on the French word 'J'aime', which means 'I love', but also sounds like 'Gem'. 'J'aime Dior'."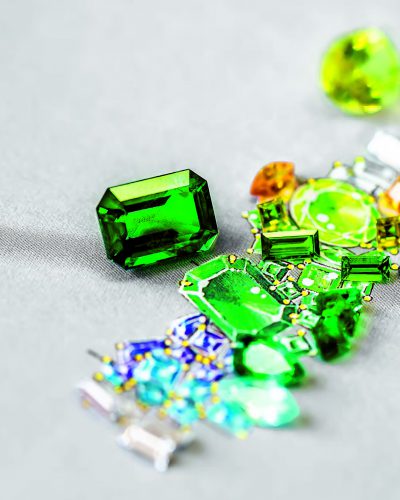 Q:

Congratulations on the 20 years. It's magnificent.

A: Thank you!
Q:

The gemstones look raw, almost as if we were really looking at them in the earth.

A: Yes, the mineral aspect. Absolutely. The idea here was to put all the jewelry in a blender, shake it and then have all the colors of this mixture appearing. You have monochromes, polychormes, camaieu and ombre of colors. It's this game that I love – to play with different concepts and to imagine stories that will never bore me in my work.
Q:

So, to what do we owe this radical shift in your design inspirations for the Gem collection?

A: Since we were celebrating the 20th year of the Dior jewelry department, I let myself wonder, what didn't I do? What haven't I thought about? That would be a summary of all these years of creation. I thought that we should focus on those decorative pieces and that it would lead us to pixels of precious stones. As if we were finding all these beautiful gemstones and precious stones, but pixelated with baguettes and square sizes. The idea was also to focus on the stones themselves, and just be aware of their colors, shapes, volumes, and play with those essentials in a collection that I call "organically abstract". Meaning that does not have a flat or symmetrical shape, but that is living. It is something very deeply inclined in what is my philosophy for high jewelry. Q: The gemstones look raw, almost as if we were really looking at them in the ea
Q:

We're all little kids at heart, right?

A: Yes, it is true. And we ought to be. I have to work. But it is not even work. It is as if I was five years old, and I was in my bedroom playing with my favorite toys. I always had this work principle that the most important thing is to keep a dose of freshness, of spontaneity, and most importantly, to always work with your heart.
Q:

Why 99 pieces?

A: Well, because it just happened at the end to be 99 pieces! [Laughs]
Q:

Your collaboration with Maria Grazia Chiuri. Was it your first time?

A: Yes, absolutely, it was the first time. Even though we tried at some point to do something together, it was not easy since I work two years ahead and fashion is two months ahead. So it was very difficult to find the right time. So we worked the other way, meaning Maria Grazia made the dresses first and I created the jewelry to match.
Q:

If we look at your different styles, you have three very distinctive ones: the monochrome, the degrade, and the polychrome.

A: Yes.
Q:

In your mind, does this reflect the different types of women you're catering to?

A: It can do…
Q:

Like the classic, the curious, and the daring?

A: Oh, that's very well thought! I haven't thought of it that way! Why not? You're right, it's very well thought. I, myself, don't really go this far into interpreting my creations. But I'm really happy if at the end, it reads that way!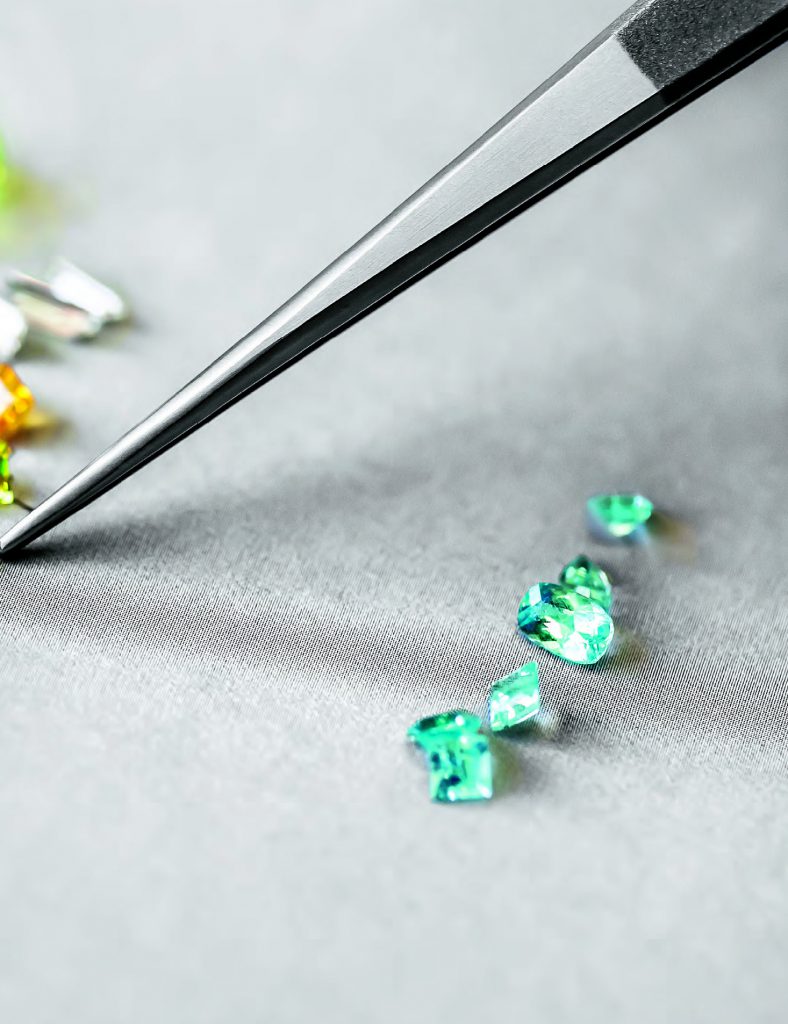 Q:

The randomness of the angles, it's almost like touching architecture. Would you describe your designs as architectural?

A: Well, usually I add a lot of oval stones, or stones that have more sensual shapes like pillow-shaped stones and that is the first time that I was looking for geometrical gemstones or more rectangular. To enhance this constructed layered deconstructed effect. What I found very interesting is that with these stones, we were able to share our idea, our concept. It really lends itself perfectly. It looks like something that could be found naturally, but at the same time, worked on. The idea was really to be able to observe the natural aspects in something completely created.
Q:

Usually, all your collections have different price points. This one ranges from 8,000 euros and above for all pieces. Are you thinking of accommodating the Gem collection with any lower prices?

A: Absolutely, I do believe that we could create a jewelry collection out of this high jewelry one. It is a collection that could be constructed another way to fit the jewelry range, so we could create a traditional jewelry version.
Q:

On the name, why Gem?

A: It was a word play on the French word "J'aime", which means "I love", but also sounds like "Gem". "J'aime Dior".
Q:

And why Venice?

A: Venice because Christian Dior once hosted a ball at the Palazzo Labia and also because it was the first time they ever presented a collection in Venice. And there was the romance around the city. If there was ever a place to present a jewelry collection on dresses created by Maria Grazia Chiuri, it would definitely be Venice. It was the mix of this very poetic, romantic, and sophisticated atmosphere.
Q:

Have you been to the Middle East or do you have any plans to come soon? Or plans to visit the region to market the jewelry there?

A: I have been to Dubai, several times, and I love it. I found the women very elegant, they have a way to wear their jewelry with delight and we feel how much pleasure that gives them. The Middle East is a very important market that has lots of taste. They have the taste of jewelry. They understand it.
Q:

Last question: What's your favorite sorbet?

A: Ah, difficult one! Difficult like to choose a favorite stone! I would say sorbet coconut, like a diamond sorbet.
Q:

And finally, what's your favorite flavor of sorbet?

A: I love mango.