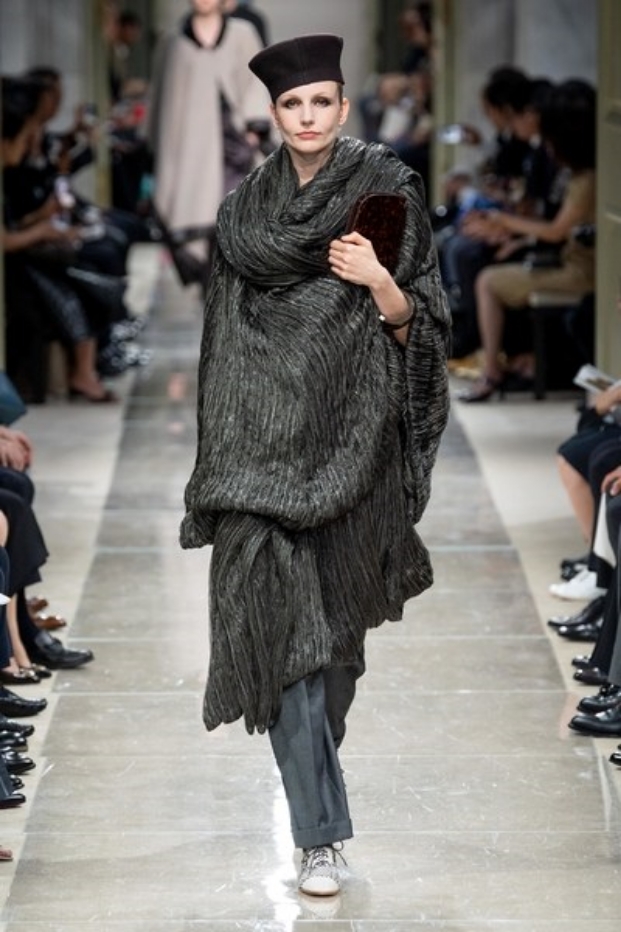 Giorgio Armani Fall 2019 Ready-to-Wear
Giorgio Armani's love affair with Japan goes way back, to when he first came to the country as a young designer in 1982. The appreciation has always been mutual. Armani is a superstar in Japan; people stop him in the streets, asking for autographs and selfies.
"The Japanese are more Armani than Armani," the designer joked. His business in the country is remarkably solid, with 90 points of sale, 34 of which are in Tokyo. In 2007, he opened the majestic Armani/Ginza Tower here. Its sleek glass façade and marble interiors were first designed by the Italian architects Massimiliano Fuksas and Doriana Mandrelli Fuksas; last year, it underwent a renovation masterminded by the designer himself in collaboration with his team of architects. Two additional Armani Casa floors were added and the ready-to-wear and accessories floors were given makeovers. The shimmering building was reopened on Thursday with a cocktail reception and a dinner in the revamped rooftop restaurant.
To celebrate the reopening, Armani decided to present his Resort 2020 collection in Tokyo. It was a first for the designer who has so far shunned the current trend of mega-brands staging spectacular productions in far-flung locations. "I do not agree with this," he said at a press conference before the show. "After all, Resort collections are mainly commercial; they have to be salable and appeal to buyers." Armani speaks his mind and does things his own way. Case in point was the location he chose for the show: Tokyo's National Museum, which houses one of the most precious and rare collections of Japanese and Asian art.
The show was a glamorous affair à la Armani: no pyrotechnics, but a first-rate attendance of Japanese and international celebrities. Uma Thurman was glowing in the front row, together with Japanese archi-star Tadao Ando, a longtime collaborator of the designer. A few days ago, Leonardo DiCaprio looked dashing in an Armani tuxedo at the Cannes Film Festival. Movie stars flock to the label, which was among the first to acknowledge the brand-building power of Hollywood's mega-stars.
The Resort collection focused on a daywear offer built around Armani's soft tailoring repertoire. Fluidity was paramount, as was a sense of ease, which he cultivated with a balanced approach between purity of lines and a feminine, slightly eccentric flair for decoration. "I think that the secret of my success is to brush against provocation and then somehow back down, restoring harmony and aesthetic composure," he explained.
The Armani pantsuit was proposed in multiple updated variations, spanning the gamut from classic three-pieces (the jackets cut malleable and soft and paired with tapered pants) to elongated, buttonless, and belted blazers, with strong yet well-proportioned shoulders, worn with skinny velvet trousers. The masculine inspiration is always a distinctive trait chez Armani, yet it was smoothed and relaxed. Even when suspenders made a puzzling appearance, they felt like a playful, nonchalant gesture. The same light spirit infused a tortoise-inspired abstract print, replacing more obvious animalier motifs; it graced a straight-cut pantsuit as well as a patent-leather trapeze caban, cinched at the waist by a knotted leather belt.
The transition to eveningwear was underlined by a flowing color palette. From grays and coffee-brown tones, the collection shifted into pale aqua, Yves Klein blue, turquoise, coral, and vivid lacquer red. Shapes became gently bodycon and elongated. A lean midnight-blue silk tulle tunic worn over stretchy silk leggings shimmered with sequined embroideries, and feminine dresses in layered red chiffon were embellished with whimsical flower motifs.
The menswear followed the same soft-tailoring template, only with a more sporty approach, which cut the formality and added a modern vibe. Casual knit jackets and peacoats alternated with more elegant double-breasted suits. Leather looked smooth and comfortably sensual, as did the use of silk velvet for an updated alternative to the evening suit. Featuring a sleek, collarless jacket, worn cinched at the waist with a logo belt, it looked cool, in the classy Armani way.