Dior Men's creative director Kim Jones has been busy injecting art into his collections since his first season, when he debuted a redesign of the House's bee motif. New York artist KAWS created that, complete with his signature 'X'ed out eyes – it was a hit. Then Jones doubled down and staged the brand's first Cruise collection in Tokyo, complete with a towering, sexual chrome cyborg by Japanese illustrator Hajime Sorayama. Sorayama's futuristic figures were distilled into saddle bags and graphic tees, presented alongside Japanese motifs like the cherry blossoms – silver and pink: v Dior. Then for FW 2019, Raymond Pettibon, a less well known artist, unless you're a fan of Punk music. Pettibon is, I gather from his opinion, for better or worse, most well-known for his illustration of record covers for Punk bands like Blag Flag and Sonic Youth. Pettibon is an unexpected choice. Jones has roots in streetwear and he's often drawn inspiration from pop culture. Both KAWS and Sorayama fit neatly into those tropes. Jones has said he considers KAWS chic. Soroyama is certainly chic. As is Dior. But Pettibon is by all accounts that somewhat disheveled and retiring kind of artist. In the Dior-supplied interview below, you'll see, he answers the interminably flaccid, trite, yet occasionally forgivable question, "Where does your inspiration come from?" with an answer that is as honest and pragmatic as it is resignedly and mildly indignant – "My inspiration comes from my mother." He was born, after all.
With a career spanning decades – he started drawing at around age 12, which was fifty years ago – his work is often socially or politically charged. Recurring subjects include Presidents Regan and Nixon, Gumby the clay animation character, Vavoom the friendly Inuit character from Felix the Cat, and Charles Manson. He grew up in South California by the sea, so waves feature heavily in his work, and also the violence of LA and the police brutality towards black youths in its more impoverished neighborhoods. So, when "Becky the Intern" bounces along questions as broad and uniformed as "Where do you get your inspiration from?", well, what do you expect? A bevy of borderline-saucy responses.
But, not surprisingly, the Pettibon pieces in Jones' collection are as deeply chic as you'd expect of Dior. And his anti-establishmentarianisms aren't obvious either. Re-imaginings of big cat prints permeated throughout, a Mona Lisa-inspired art work closed the show, and a shoulder-fastened outerwear vest embroidered and beaded with the face of an owl, and Pettibon's signature script beneath ("With their own light and lash I have drawn them") was almost effortlessly poetic, excepting the 1,000 plus man hours of beading it took to create it in the atelier.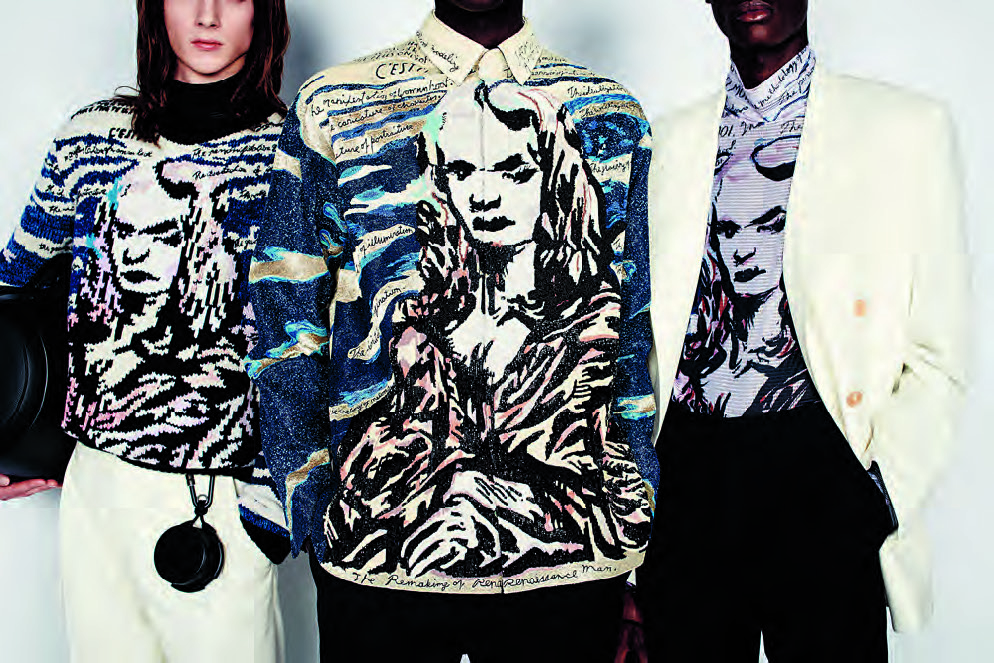 Q:

HOW WOULD YOU DESCRIBE YOUR ARTISTIC WORK/APPROACH?

A: My life struggle and love since I can remember.
Q:

WHAT ABOUT YOUR ARTWORKS IN GENERAL?

A: There is a thread to be sought.
Q:

WHAT ARE THE MESSAGES BEHIND YOUR WORK?

A: Love through art.
Q:

WHERE DOES YOUR INSPIRATION COME FROM?

A: My inspiration comes from my mother.
Q:

YOU'VE OBVIOUSLY DONE MANY COLLABORATIONS IN THE WORLD OF MUSIC. ARE YOU INTERESTED IN WORKING IN FASHION MORE?

A: Most of the opportunities I've had working with fashion have been organic, had some kind of connection to the Art World, and have been based on a mutual admiration for craft. I've collaborated with other designers in the past, but this is the first time at a couture level.
Q:

DOES FASHION OR THE CULTURE OF FASHION INFLUENCE YOUR ART IN ANY WAY?

A: I think Fashion and Art meet together like a finely knit sweater. I absolutely think Fashion and the Art world are a match, though I wouldn't say a perfect match, perhaps, but certainly there's very little separation, nor should there be. I came from poverty and then from punk. Punk's anti-fashion ideology is fashion to the extreme.
Q:

HOW DID KIM AND DIOR CONTACT YOU ABOUT THIS COLLABORATION?

A: Kim contacted me through our mutual friend Stella Schnabel. When I heard of his interest, I wasn't in need of any persuasion to agree to the project.
Q:

WERE YOU FAMILIAR WITH KIM'S WORK PREVIOUSLY?

A: Yes, I had admired Kim's work from afar for some time.
Q:

WHAT DO YOU THINK OF THESE CREATIONS FOR DIOR'S WINTER 2019-2020 COLLECTION?

A: I think they did a very good job integrating my artwork into their fashion pieces.
Q:

HOW DID YOU CHOOSE THE ARTWORKS TO BE INCLUDED IN THE COLLECTION?

A: Kim knew that I had made drawings with animals in them and asked me to make some new works with leopards specifically. These spotted patterns were then used for prints on the fabrics. Other imagery was pulled from already finished works in my archive. I was impressed that Kim was interested in both images and text for the collection.
Q:

WHAT WAS YOUR REACTION WHEN YOU SAW YOUR WORKS COME TO LIFE THROUGH 3D EMBROIDERIES?

A: I was impressed, and I am always pleased to see my work come to life in another form.
Q:

WHAT ARE YOUR UPCOMING PROJECTS?

A: I am currently working on a show that will take place at David Zwirner in Hong Kong, I am not certain what that will encompass, I won't know until it's finished. There is also a staged reading performance project involving my scripts scheduled for November.