Christian Louboutin's fascination with Bhutan – the majestic, landlocked country nestled within the Himalayan mountains that serves as the focal point of his latest collection – began at the precipice of his adulthood.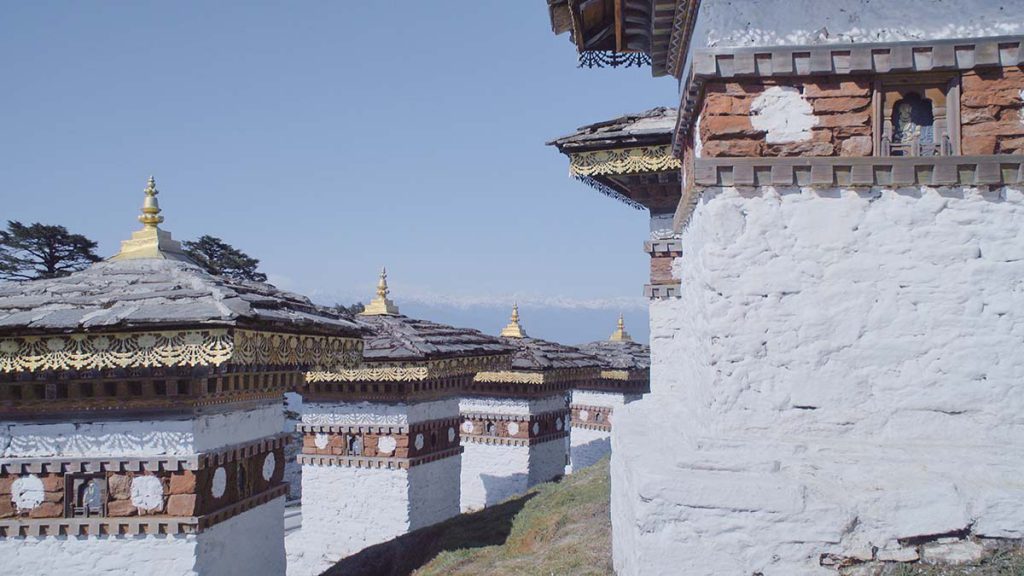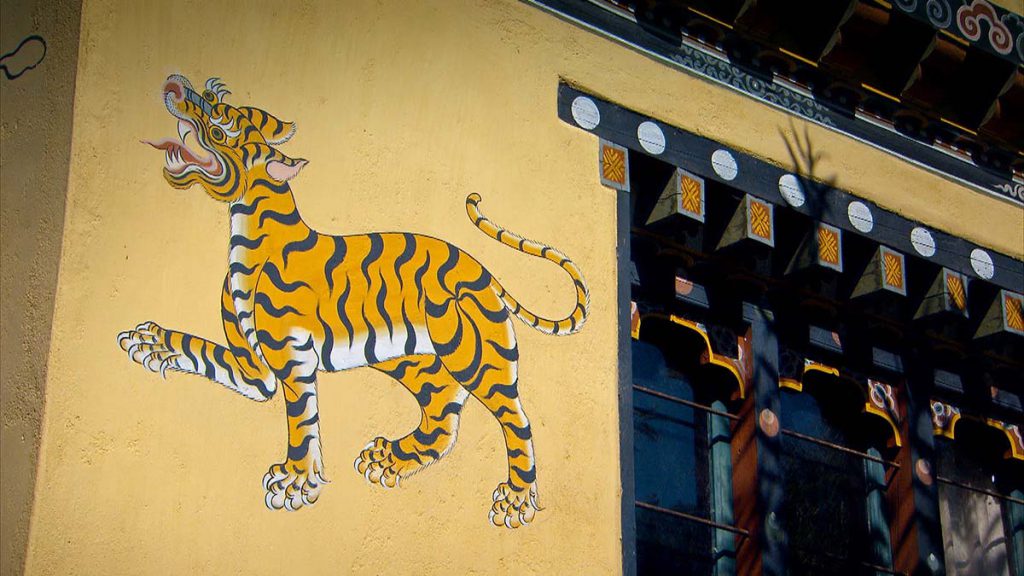 While backpacking through India at 18, the now-56-year-old French shoe legend attempted to explore the near-inaccessible kingdom, but was turned away due to passport complications and financial limitations. Though many years passed before Louboutin was finally able to successfully enter the country (he traveled there with his friend and
fellow designer Diane von Fürstenberg in 2012), his infatuation with Bhutan's unique mix of long-held traditions and high modernity never waned, nor did his obsession with its local flora, commitment to collective happiness, and spirituality, though he has claimed he's not religious. "The country is at a crossroads of many different civilizations and cultures," Louboutin said. "In a way, this is the roof of the world."
Collaborations are customary in the fashion world today, but rarely are such capsules born out of something truly and wholly organic, as was the case for Louboutin. After being commissioned to design a pair of wedding shoes for a friend, who is a Buddhist, he sought the assistance of students and artisans from the Bhutan's Royal Art School to translate traditional Buddhist motifs onto the shoes.The relationship deepened when Louboutin asked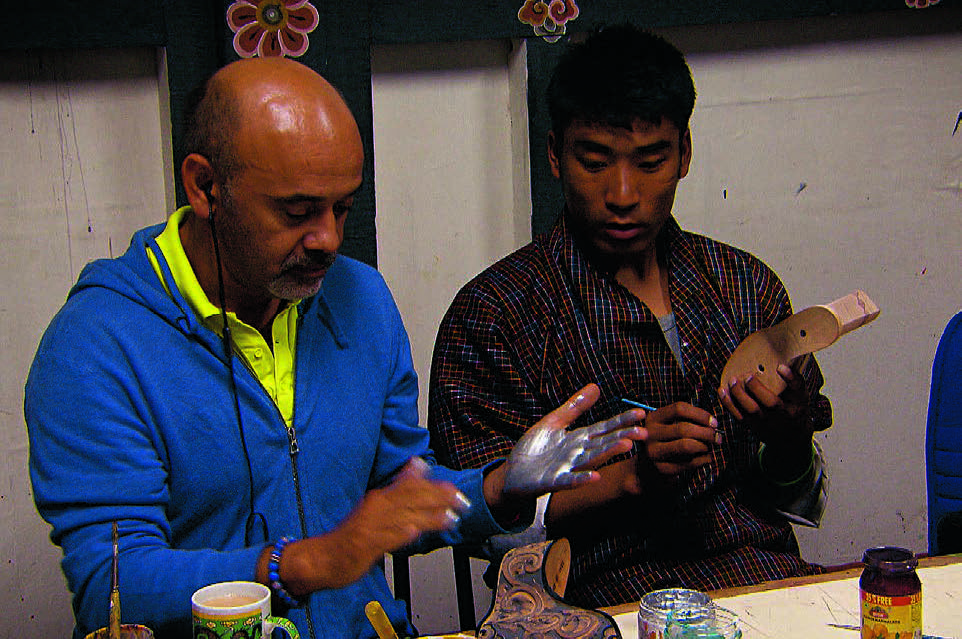 them about a print on a large Bhutanese painting. "[Their principal] came to me and said, 'We have a question for you. What is a print? What is the difference between a print and a painting?' Sometimes you take things for granted that [you think] everybody knows from your language that you're sharing." Intrigued, the school asked Louboutin to continue teaching, but "I said I didn't have time to be a teacher and I would be a very bad teacher." He promised instead that he'd speak with them about things he knows when he comes back to visit. Louboutin knows about high heels. His signature red soles, born from a bottle of red nail polish that belonged to his assistant, have been his trademark since the early '90s.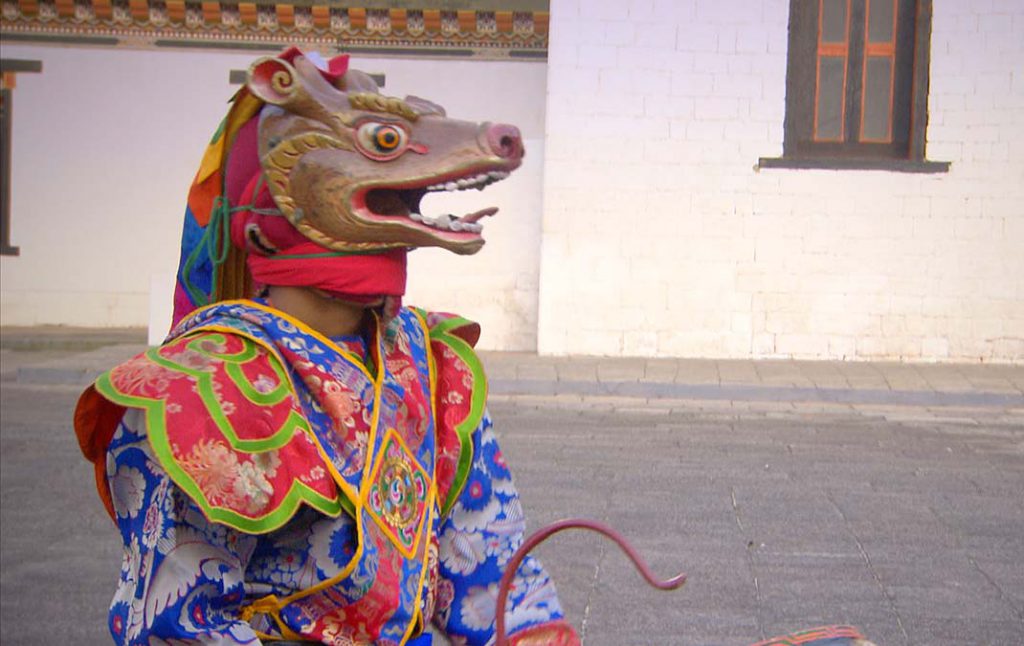 Now a household name and a favorite among royals, celebrities, and top models, the Parisian designer has become synonymous with kitschy sex appeal that occasionally borders on fetishism.
Armed with shoes, patterns, and know-how, Louboutin returned to Bhutan to teach the school about the kind of footwear he makes.
It was a "crash-course in Western naughtiness," according to his 2015 documentary Christian Louboutin: The World's Most Luxurious Shoes, which aired on the UK's Channel 4. Nevertheless, the students began to draw, and it was then that a cross-contamination of cultures occurred, and Louboutin decided he wanted to infuse Bhutanese craftsmanship into his sartorial aesthetic.
Wooden platforms and intricate paintings comprise the 13-piece lineup. The details draw heavily on Bhutan's famous iconography and artwork, which is either highly spiritual or highly phallic.
But, Louboutin said, "it is also very funny. There's no shame… Everything is discussable; it's a very open-minded spirit and country." Himalayan flowers (rhododendrons, magnolias, and lotuses, for example), serene landscapes, and the dream-like sunsets of Bhutan also adorn them. Louboutin himself is partial to the 'Bouthan Beauty', a richly colored platform wedge lined with mink fur and inspired by Bhutanese arabesques, and the 'River of Paro', which features a blooming lotus on the back and laser-cut leather designed to mirror traditional Bhutanese style.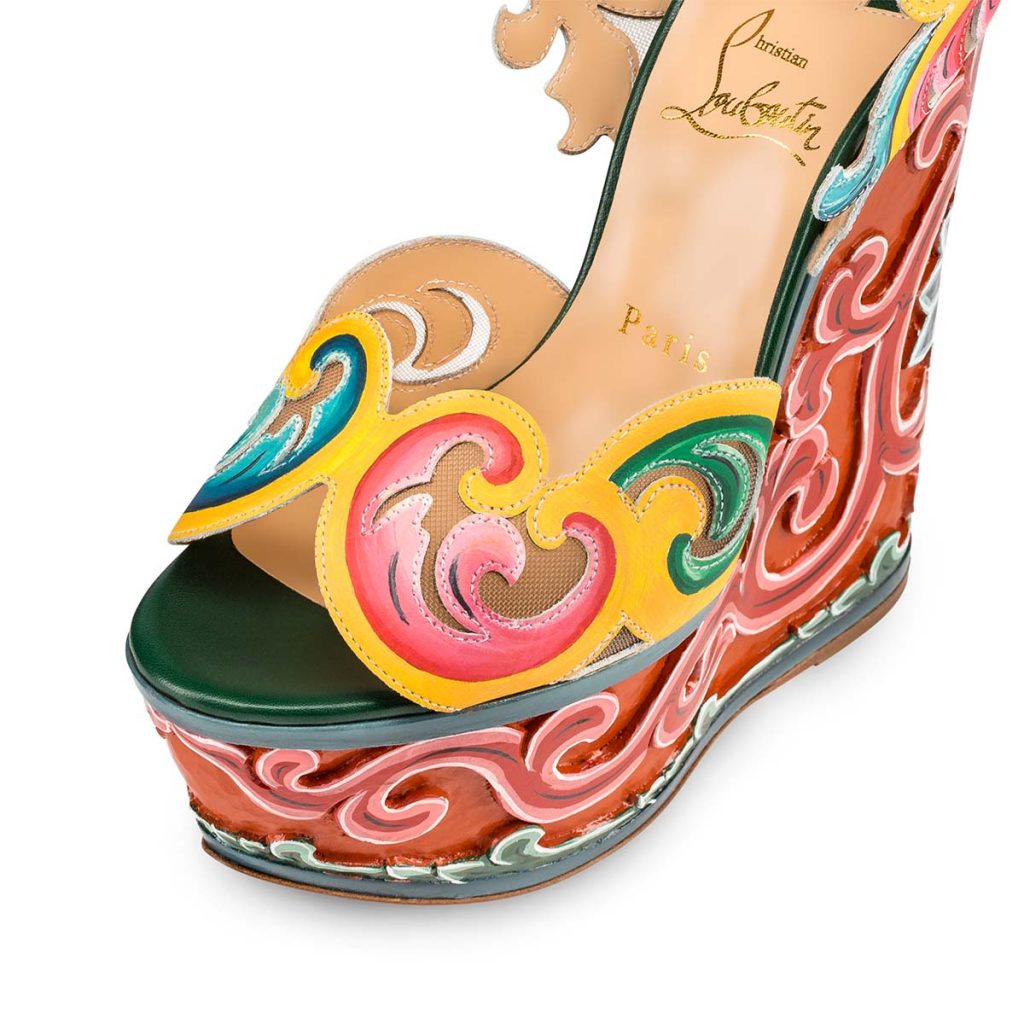 The collaboration, part of which will be featured in Louboutin's highly anticipated and forthcoming retrospective at the Palais de la Porte Dorée in his native Paris next February, was mutually eye-opening. For the Bhutanese students, it was a chance to explore creative pursuits beyond the traditions of their native country. For Louboutin, it was a lesson in patience, and, to a degree, acquiescence, as every piece had to be approved by Bhutan's King and Queen. To say the partnership is precious to Louboutin – emotional, even – is a gross understatement.
"When people talk about a kingdom somewhere where Tarzan lives… there was something about Bhutan," he said. "It's almost like this secret place." Heroic and adventurous, Louboutin is a bit like the King of the Jungle in his own right. Better shoes, though.