In the heart of ancient rome, set among thousands of years of built history, the Roman fashion house Fendi staged one of the most spectacular shows in memory. Its couture fall/winter 2019- 2020 collection, named 'the dawn of humanity' comprised 54 looks, representing the number of years the late creative director Karl L Lagerfeld helmed the house. At dusk, under a clear summer's evening sky, Fendi fused the city's centuries with its own heritage and the future-facing modernity of both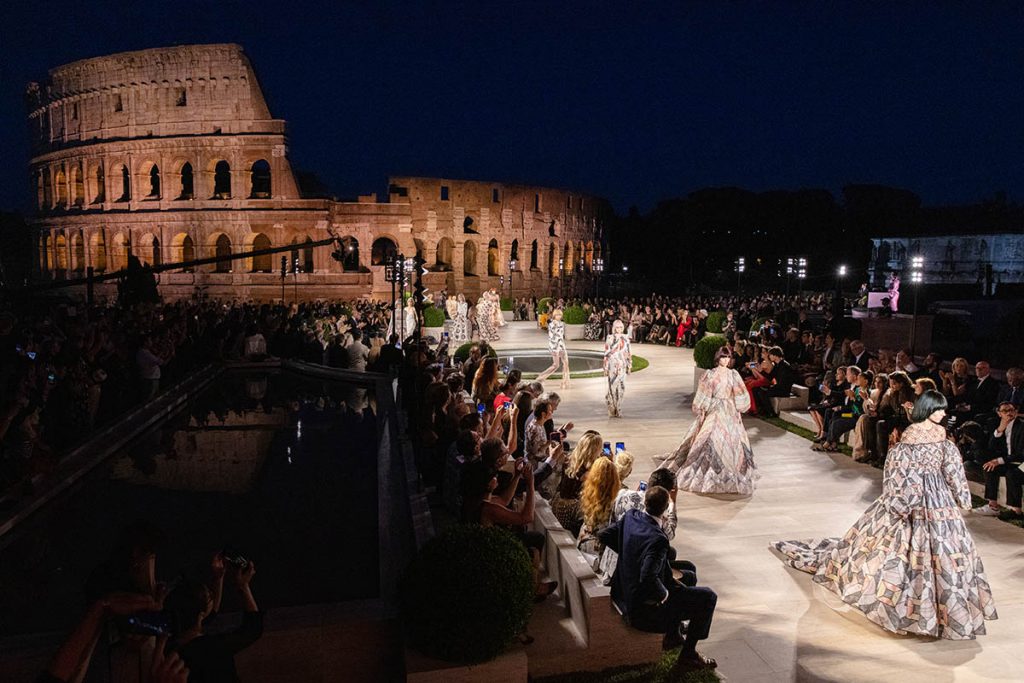 THE VENUE
Overlooking the awe-inspiring Colosseum, Palatine Hill is the centralmost of the Seven Hills of Rome, where it is said Romulus founded the Eternal City. A specially erected runway was set with pools of crystal water that reflected the waxing crescent moon's pale light, which also cast the collection in a dreamy, dusky glow. 
Following the show, guests were led to dinner at The Temple of Venus and Rome, the largest temple of the city's ancient era. The show and the dinner were a celebration of Karl, the new collection, and also the city and the brand's commitment to it – funding to the tune of €2.5 million was donated by the brand for the temple's restoration, which also recently put €2.6 million towards the restoration of the Trevi Fountain, where it staged its Fall/Winter 2017 couture show.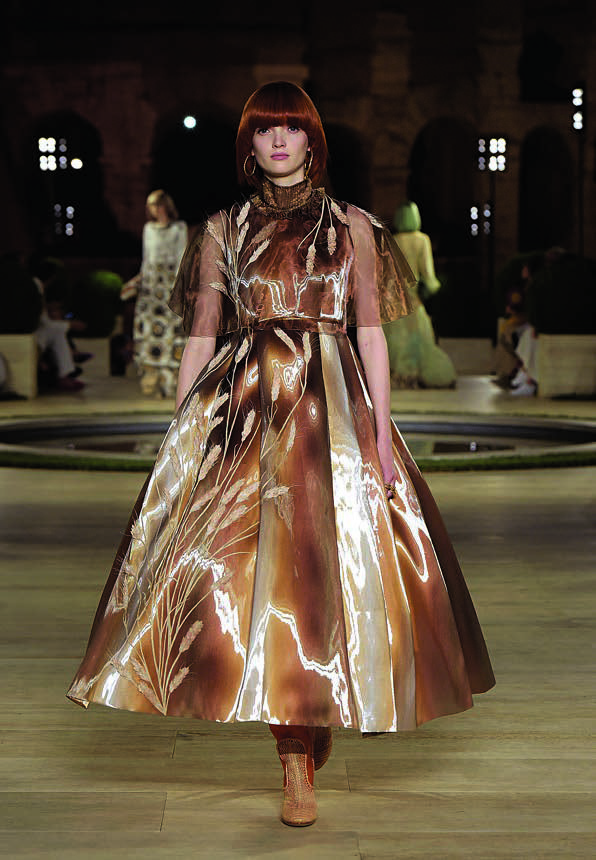 THE COLLECTION
Models with wigs reminiscent of some Joanna Lumley-cum-Farrah Fawcett Seventies secret agent stormed the runway in tailored suits, short dresses, and billowing overcoats that rippled with the veins of white marble redolent of Rome and its ancient architecture. Tiered evening gowns in ethereal chiffon drifted past like cumulus clouds on a crisp summer day, embroidered with whimsical flowering vines and sheaves of wheat, and geometric intarsia work throughout referenced the ancient mosaics you still find preserved on the ancient floors of aristocratic villas across the country. And while fur is still a strong element at Fendi, this season featured innovative use of mohair and cashmere, woven to simulate the mink and fox that has in some ways been the brand's bread and butter. Brava.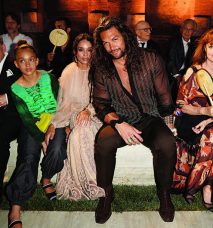 THE GUESTLIST
If a picture's worth a thousand words, this one is worth 2,000. Royalty of the silver screen, Susan Sarandon has starred in the best part of 100 films, including such seminal roles as Janet in The Rocky Horror Picture Show, Jane in The Witches of Eastwick, and Louise in Thelma & Louise. Here, it appears hulking hottie Jason Momoa and wife, Lilakoi Moon (née Lisa Bonet) have been asked for a photo, while their daughter, Lola, and Ms. Sarandon are being asked to please move aside. 
Even a man in the second row is attempting to exit the frame, and one man in the back wields a Fendi paddle to obscure his face. Lilakoi is almost eclipsed anyway. Gold. Zendaya and Catherine Zeta-Jones also attended.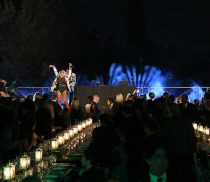 THE AFTERPARTY
As if a cocktail reception for all the guests followed by a couture show in front of the Colosseum weren't enough, an exclusive dinner with those breath-taking views of Rome presided over by Silvia Venturini Fendi and Chairman and CEO of the FENDI Maison happened. Revelers, including a dizzying array of influencers such as Luka Sabbat and Chiara Ferragni, were treated to a special performance by New York R&B duo, Lion Babe.
SILVIA VENTURINI FENDI & ALI Y. KHADRA
Q:

This is your second couture show in Rome, and the first was at the Trevi Fountain. It must be so special to be able to hold these shows in such monumental places in your home city.

A: Things are still changing at fashion weeks, and have been more fluid. There's this trend of doing a traveling show, but for Fendi to be in Rome it's so organic because our collection is conceived here, and the vision of the woman is very much informed by the city, so it's a closing circle – it's beautiful. You will see the city very much in the collection this evening – its geometries and its nature.
Q:

Last season we saw materials that looked like fur but were not. Is this balance of fur and non-fur a priority for Fendi?

A: Well at Fendi we've always pushed our boundaries and worked to subvert things. And we like to surprise people. We like to play, and it's that sense of playfulness. We're always creating and looking for ways to innovate. Of course, we have a long heritage in fur, but in this collection there are pieces that look like fur but they are in reality wool or mohair or cashmere.
Q:

There was one dress, the laser-cut brown one with the geometric forms. We couldn't tell if it was fur or another material.

A: Yes, indeed, that piece is very special.
Q:

Karl has said he never kept archives at Chanel, and that he did his sketches and then threw them away. Are there any sketches from his many years at Fendi, and if there are, will you ever exhibit or present them in some way?

A: Yes there are, but I think that the best way to pay homage to Karl is to do something new. We will pay homage to Karl this evening with the same number of looks in the collection as years he worked with Fendi, but he hated looking back; he would not be happy to see a retrospective. So what I want to show is the versatility and the creativity and the skills of this house, which has been very much shaped by Karl. So yes, this collection is an homage to Karl, and there are some pieces in the collection that are inspired by our archive, because how can you avoid such a big history? But the important thing is not to replicate, but to innovate.
Q:

I was at Karl's memorial, and your message was very emotional. He was a colleague of yours but he was also a friend. Can you share something you miss about him?

A: Well I will miss him of course tonight more than ever. I will miss the little ceremony that we had at the end of each show where he would have hugged me and then said to all of our team, "And now the next!" Because the moment the collection ended was also the start of the new one, it was also a way of saying 'Don't relax'. He was never interested in what he had done but in what he didn't do.
Q:

I had an opportunity to spend some time with him, and I discovered a side of him that was very funny.

A: He had a sense of humor, irony, which was the most fantastic, and also a secret, because when you have to work night and day – he was very committed, multitasking, working so hard – you have to do it in a light way, you have to amused by your work, otherwise you cannot work such an amount of time.
Q:

Finally, what's your favorite Sorbet?

A: Mango