STAGED JUST A FEW DAYS AHEAD OF NEW YORK'S MET GALA, MIUCCIA PRADA'S RESORT 2020 COLLECTION WAS A "PROTEST AGAINST TOO MUCH." AN ARRAY OF QUINTESSENTIAL, SIMPLE PIECES WITH MINIMAL FUSS AND EXTRAVAGANCE HIGHLIGHTED PRADA'S PARADOXICAL PERSPECTIVE IN A COLLECTION SHE CALLED, 'SEDITIOUS SIMPLICITY'.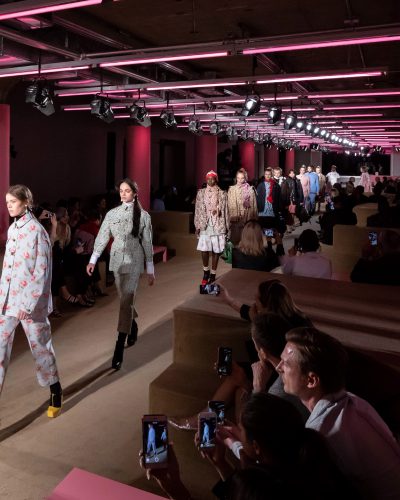 THE SET-UP
Like her previous Resort show, Prada presented her collection at the brand's HQ, in the Herzog & de Meuron-designed New York City building, The Piano Factory. As the sun set over Manhattan, the lights dimmed in the sixth-floor building for a show that was all about the clothes. Prada explained that she wanted to host the collection "at home" as a nod towards the clothes she described as "the opposite of pretentious". A series of cosy '70s shag carpet-smothered alcoves with pink coffee tables had been set up for the models to wander through in the unassuming space, giving a suburban and certainty homely tone to the evening.
THE INSPIRATION
Miuccia Prada, the prodigious trend-setter, was in a restrained frame of mind when curating her Resort 2020 collection, and in the show notes she explained how she was inspired by an antithesis to all that's glitz, glam and over complicated in the world. She explained the collection as, "seditious simplicity with a reinterpretation of classics. A contrast with the increased complexity of the world, pulling back to the sincere, pure and true, the collection proposes an unexpected means of subversion, elegance as sedition."
THE ACCESSORIES
High-top baseball sneakers and ribbed socks accompanied nearly all of the shows looks, but what was most exciting about Resort 2020 was the revival of Miuccia's iconic bowling bag in honor of its 20th anniversary. First introduced in Spring 2000 in a collection called Sincere Chic, two new short-handled versions came down the Resort runway – a classic size, swinging off Gigi Hadid's arm, and a smaller, shoulder version as carried by Kaia Gerber, perfect for her petite frame.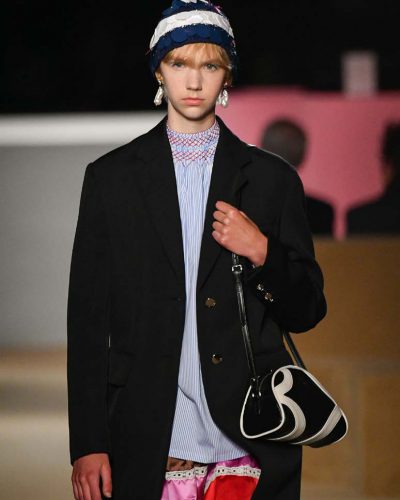 "IT'S SIMPLICITY AS A PROTEST AGAINST TOO MUCH. I'M SENSITIVE TO THE POLITICAL SITUATION; IT AFFECTS ME."
MIUCCIA PRADA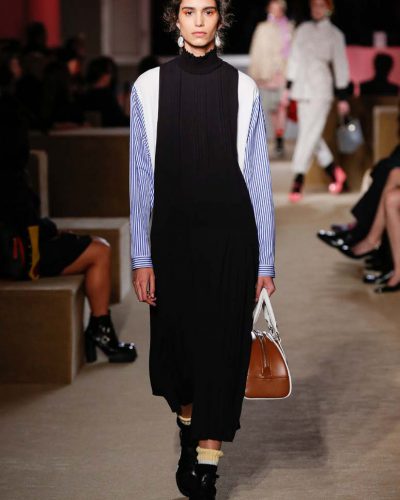 THE CLOTHES
It was evident Prada is feeling in a somber mood for Resort 2020, right from the double-breasted black coat that opened the show to the minimal '90s-inspired tailoring that followed throughout. "It's simplicity as a protest against too much. I'm sensitive to the political situation; it affects me," she explained after the show that was almost void of any embellishment. Creating a majority of the looks from humble cotton, there were smocked peasant tops with handmade embroideries, blue and white striped button-down shirts worn under blazers, sack dresses and utility suits in simple mono-shades, domestic micro floral prints or the modest check. Her color palette focused on soft pastels and a variety of beige shades, mixed with pale blues and blacks – these clothes aren't about making a scene.
THE AFTER-PARTY
In following on from the theme of Prada's vision of simplicity, suburban-style canapés of white asparagus and plates of ham – nothing too elaborate – preceded the show. An intimate dinner and late night after-party, where DJ Nastia and Richie Hawtin entertained the crowd followed, but just as the designer intended, there was no drama or great spectacle – just good company.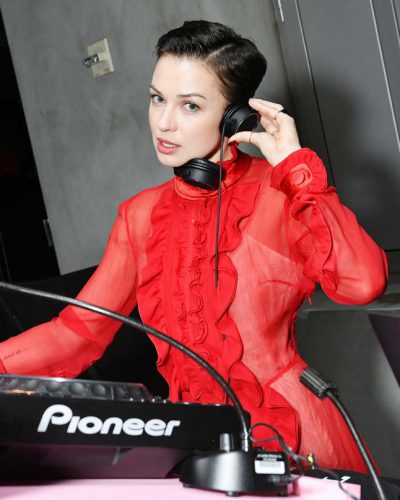 THE SOUNDTRACK
While the clothes were egalitarian and understated, Prada is known for being disruptive and this collection still felt provocative. The No-Wave soundtrack, including tracks from Gray, the industrial-sound band by painter Jean-Michel Basquiat and performance artist Michael Holman, added a rebellious context to the show.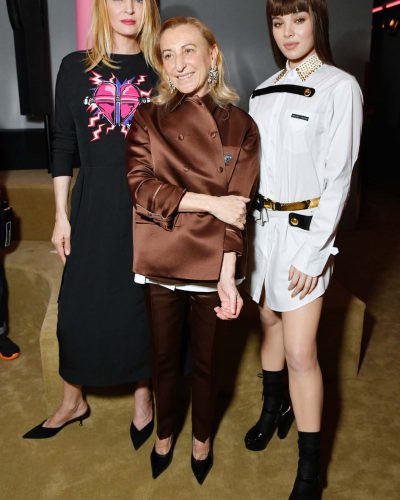 THE GUEST LIST
This season's guest list was a who's who of bright, young things including Elle Fanning and her boyfriend, Max Minghella, Anderson Paak, Dane DeHaan, Stranger Things actresses Sadie Sink and Natalia Dyer, as well as Aladdin star, Mena Massoud. Long-term Prada disciples, Uma Thurman (accompanied by her teenage son, Levon Thurman-Hawke), Sofia Coppola, Diane Kruger, Naomi Watts, Shailene Woodley, Joel Edgerton, Hailee Steinfeld and Casey Spooner also mingled in the show space before and after the runway show, before an informal dinner followed. Oh, and newlyweds Marc Jacobs and Char Defrancesco also joined in the fun – their first public appearance as husband and husband.