Following London in 2015, Seoul in 2017, Hong Kong in 2018, and Shanghai in April 2019, Chanel's Mademoiselle Privé exhibition opens in Tokyo's B&B hall, a sprawling industrial space in the heart of the Japanese capital, where room after room of historic vignettes envelop visitors in the Chanel worlds of haute couture, haute joaillerie, and Chanel No 5.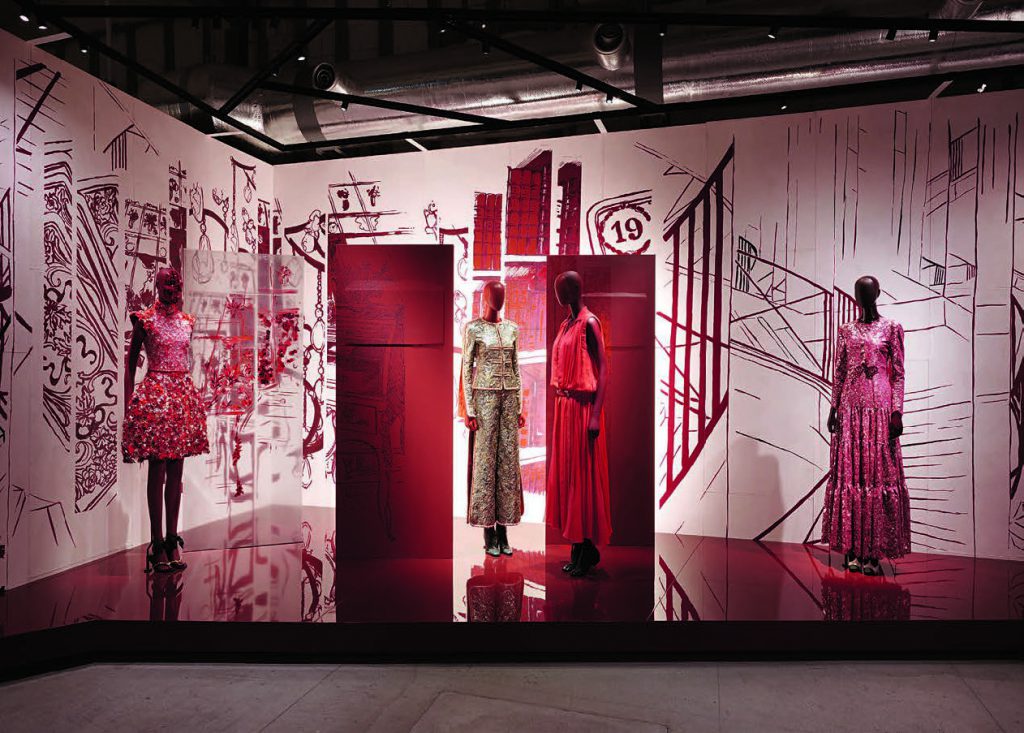 THE SPACE
Articulated around five sequences staged over two floors, each one based on an emblematic part of Gabrielle Chanel's apartment with one of five chromatic ambiances, the exhibition mixes graphic frescoes with haute couture silhouettes created by Karl Lagerfeld and Virginie Viard, magnified by the savoir-faire of Chanel's Métiers d'art, high jewelry pieces, re-editions of the legendary Bijoux de Diamants collection and recent creations, as well as the historic and contemporary objects that tell the story of Chanel N°5 since its creation nearly 100 years ago.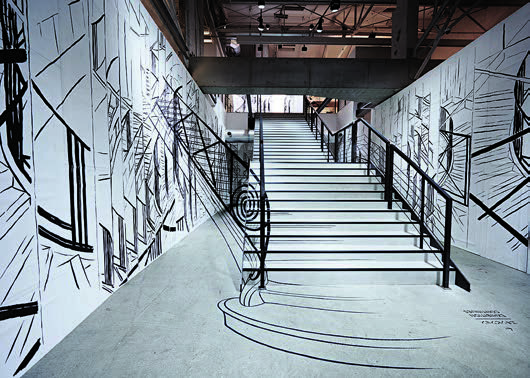 THE CRAFT
Chanel's Métiers d'art are showcased at the entrance of the exhibition with an interpretation of the door to the Creation studio at 31 Rue Cambon, embroidered by the House of Lesage. This focus is also expressed with each of the doors that lead into the five sequences of the exhibition reinterpreting an embroidery motif made by the Métiers d'art and each inspired by an haute couture silhouette of the sequence.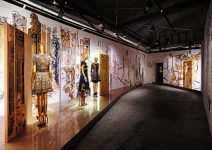 THE EXPERIENCE
Passing through one chromatic atmosphere to the next, from one inspiration to the next, the exhibition brings together the silvery white shimmer of the mirrored Art Deco staircase at 31 Rue Cambon with the sandy beiges of the large suede sofa and the amber hues of leather-bound books in the library; the deep blacks of the lacquered console tables in the dining room with the red of the writing desk and the Baroque golds of the grand mirror hanging above the mantelpiece in the historic salon.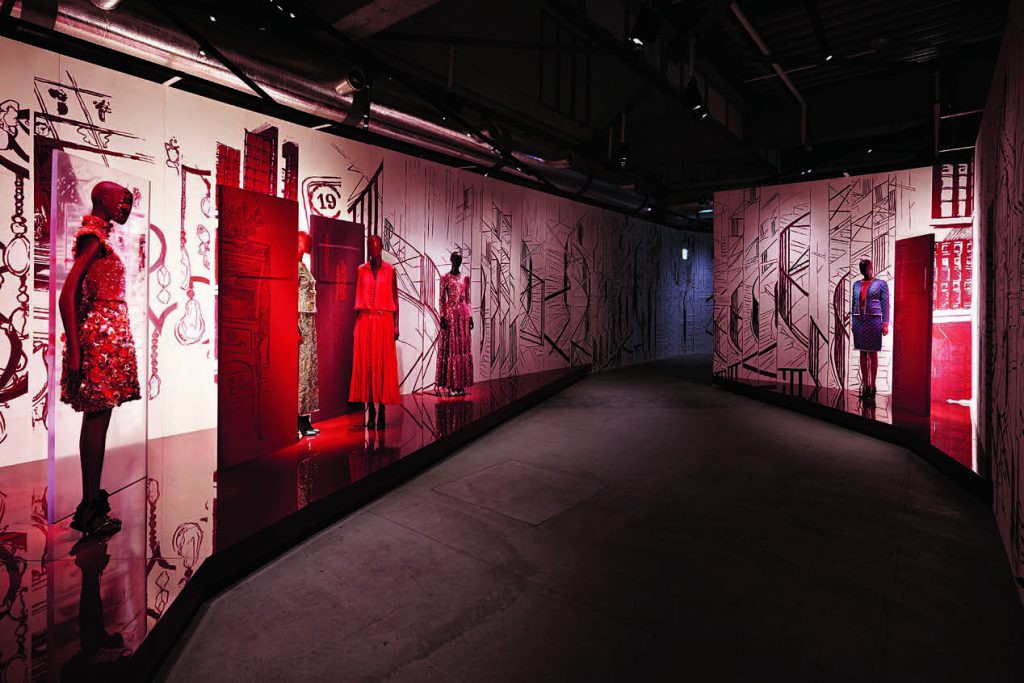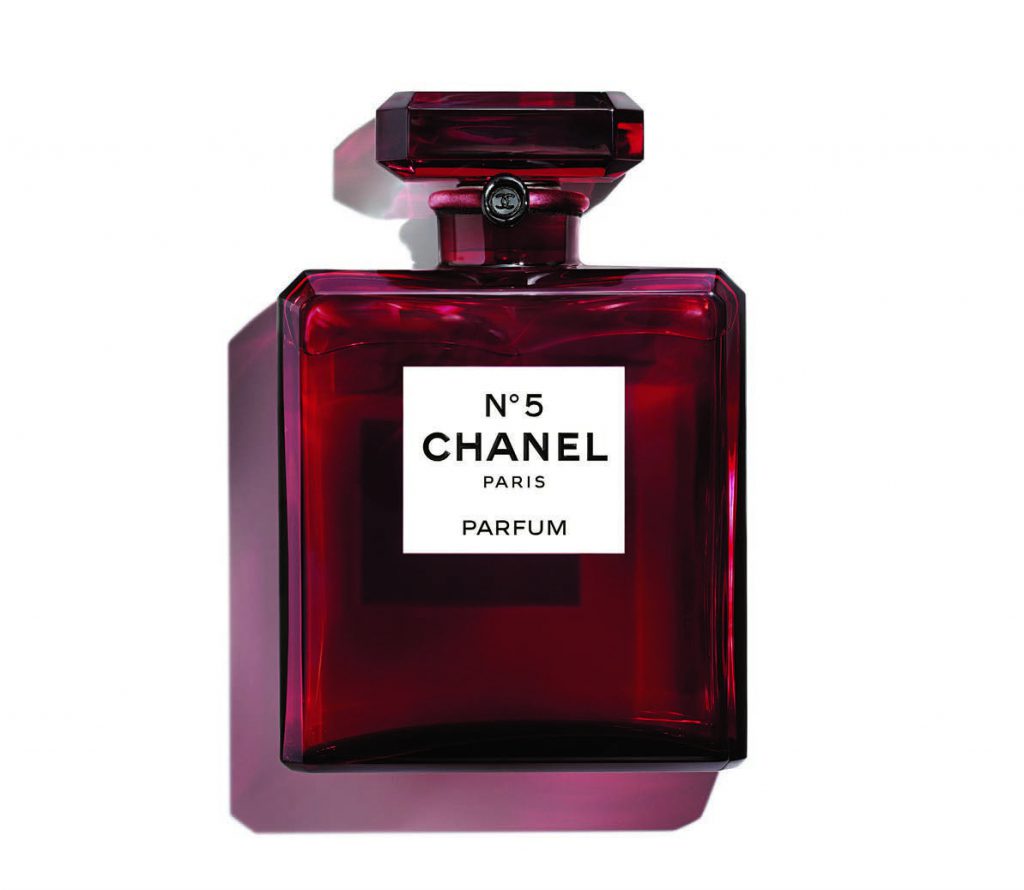 RED AT CHANEL
Along with black, white, beige and gold, red is a staple color of Chanel's repertoire. Gabrielle is known to have appreciated its strength and its luminosity, "The color of life and of blood," she said. The red in her fashion, beauty, perfume and high jewelry was an enduring color in the world of Chanel. She often dressed in red, and each of her runway shows was punctuated with a least one red piece. In May 1936, the artist Christian Bérard drew her in a red tweed suit for the magazine Vogue US. In the 1950s, she interpreted her tweed suit in the main colors she favored, including a more or less bright or deep red. In February 1955, she created the 2.55 quilted bag with red leather interior and a small central pocket to hold a lipstick. The symbolic significance of red, linked to power, splendor and wealth, but also to celebration and seduction, did not escape her.
From coral to vermilion, from carmine to garnet, from ruby to purple, the spectrum of reds was also invited into every collection by Karl Lagerfeld, such as this 3D suit lined with quilted red satin from the Fall-Winter 2015/2016 Haute Couture collection. Virginie Viard raises the tonality to a fuchsia ennobled with silvery pink, painted by hand, for a lace bustier dress and its bolero from the Fall-Winter 2019/2020 Haute Couture collection.
While red in Chanel's high jewelry most often appears as a punctuation that takes shape as an important centerpiece stone, it is occasionally the pretext for exceptional creations such as this necklace composed of 59 strands of red spinel beads linked with a medallion set with diamonds and embellished with a blue tanzanite.
Often associated with red through its advertising campaigns (from Carole Bouquet's red suit and Estella Warren as Little Red Riding Hood to the red carpet walked on by Nicole Kidman and the red dress worn by Gisele Bündchen), Chanel N°5 perfume was, at the end of 2018, dressed in a red Baccarat crystal bottle, for a limited edition series evoking the materials that comprise its eternally unrivaled fragrance. Through this unique edition, the legendary bottle and its daring olfactive composition.
CHANEL No. 5
The icon of Chanel perfume since its creation in 1921, the success of Chanel N°5 is irrefutable. It was in Grasse (the historical cradle of French perfumery and where some of the most fragrant flowers that go into N°5 are still cultivated today) that this perfume was conceived. In his laboratory, perfumer Ernest Beaux created an unprecedented work of olfactive architecture. A bouquet of more than 80 scents whose precious notes (May rose, jasmine, ylang ylang, sandalwood) were blended with aldehydes in such considerable quantity for the first time in history. .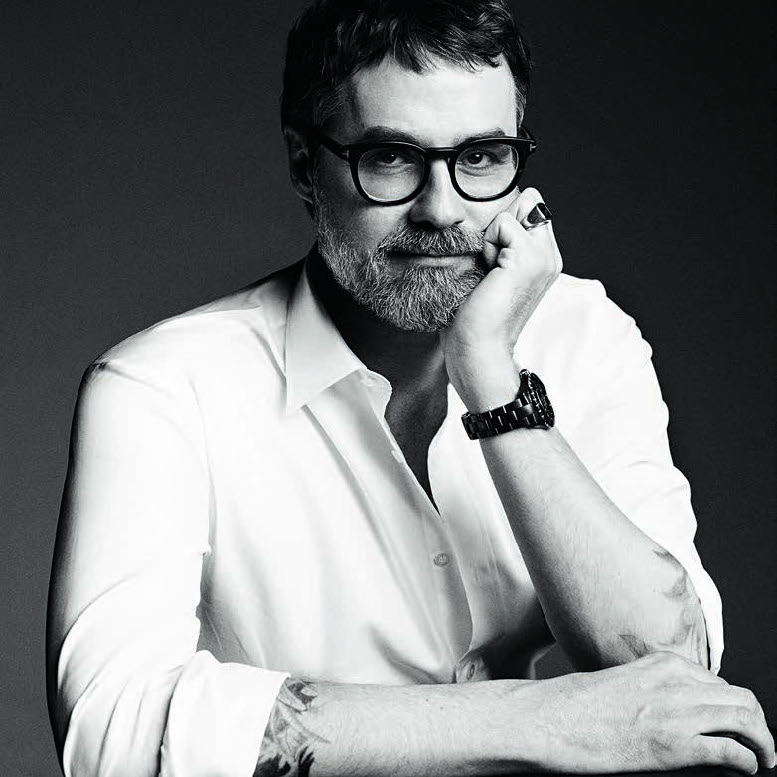 It was the aldehydes that enhanced the scents by removing any overly precise contours, and the aldehydes again that gave this perfume its mystery and its subtlety, taking perfumery into the modern era. When Gabrielle Chanel and Ernest Beaux launched Chanel N°5 in 1921, they were offering much more than just a new fragrance: this was a revolution. And with the perfume taking such a principal position in the Mademoiselle Privé exhibition, we met with the House's resident N°5 expert, Thomas du Pre de Saint Maur to get some more insight into the icon's journey of almost a century.
Q:

In fashion, trends are often thought as cyclical. Can the same be said of fragrance cycles?

A: Yes, for sure. I don't know if the fragrances change per se, but a fragrance swallows the culture of its time, and perfumers will always instil in their fragrances their understanding of the culture of the moment. So the fragrances of the '50s are different to the fragrances of the '60s and the '70s, etc.
Q:

In which case, how does N°5 persist so poignantly through the decades?

A: If you look at N°5, even as the scent has remained the same, the way we've spoken about it, the way we pictured and portrayed the Chanel woman has very much changed over the decades, according to cultural changes or social- cultural changes. N°5 is interesting in that it really is one of the most complete luxury products that exists in the world, because the symbolic universe is as strong as the material universe. Of course, people love the juice, love the bottle, but the ID that you project when you wear N°5, the idea of the woman is as strong and as valuable as the product itself, and this is why the product is enduring because we've nurtured the ID of the woman who wears N°5.
Q:

What about the change in the women you choose as ambassadors? You've gone from a more adult woman towards some younger faces.

A: There are two periods in N°5: you have the period between 1921 and 1936, which is the period of Mademoiselle Chanel, and then afterwards begins the second period, which is from the legend of creation to the creation of a myth by using different women and projecting N°5 onto them (the first one being Marilyn Monroe (which was actually not commissioned by Chanel), and even then it evolves. When we had Ali MacGraw in the ads in the'60s, she wasyoung. It was way before she became a movie star. She became a movie star because a talent agent from Hollywood saw her in the N°5 ad; that's how she became who she was. So she was young, and then we had Jean Shrimpton, who was very young. Then we have we had more mature women, and then we had again a very young one with Estella Warren. So it's still always what kind of representation of femininity fits the brand best. Then we had, like, Nicole [Kidman], who was a super fit for the project because the project was the most famous woman in the world/the most famous fragrance in the world, as simple as that. Then we did L'Eau, because we realized that there was a whole generation that love N°5, that fantasize about N°5, but for whom maybe the classic N°5 is a bit too overwhelming, so the idea was to create a product that makes the usage easier without changing the story. Then we start thinking about who could represent that new generation of women, and Lily-Rose [Depp] was an obvious choice.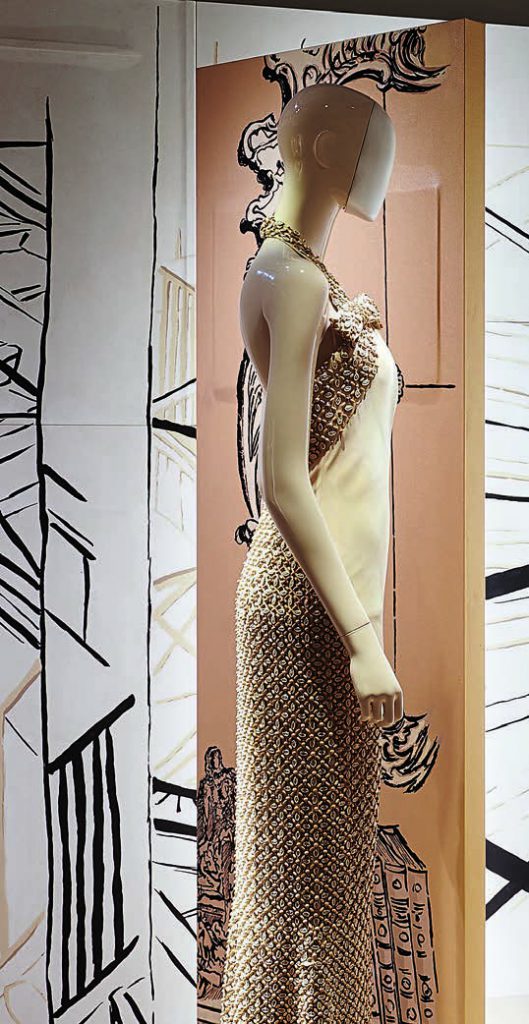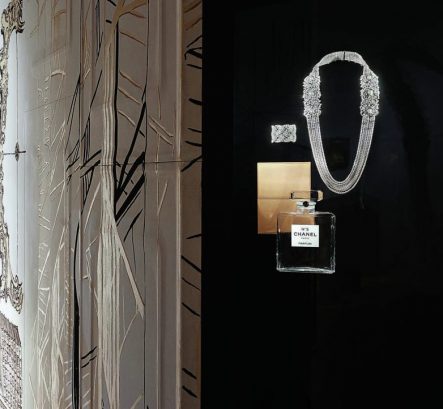 Q:

One personality that made a very big impact was Brad Pitt. What was the deal there?

A: The choice of Brad Pitt was audacious, having a man talking about a woman fragrance. When you have a man that talks about N°5 – which is not just a fragrance – it's a man essentially talking about the idea of what fragrance is. You need to have a man that represents somehow some universal masculinity – Brad Pitt is to men what Marilyn is to women. It's the most ideal, incredible idea of a man. Physically, it represents premium, and so we wanted the great actor; but within that great actor I really wanted somebody that felt like the most universal expression of man, and for me, Brad is that, at the same level as Marilyn Monroe.
Q:

What are the challenges of communicating N°5, in today's era, when there's so much competition?

A: Well, the first thing is being heard, because there's so much noise around. With social media, if you look at the percentage of what we communicate for Chanel versus what the world communicates for us, how much we talk versus how much people talk, we are just a drop in the ocean, maybe one or point five percent of the global conversation about Chanel. For me the only way of preventing fatigue is to make sure that it's always classic and iconic, but that it doesn't age, because everything ages too fast now, and the more trendy you want to be, the more quickly consumed you are.
Q:

The limited edition crimson bottle that was released last year; what was the purpose and why crimson? Why red?

A: We were asked to do a limited edition at Christmas because at some point we need to be stimulated by a need. So we were thinking about what would have an impact, that would surprise people but without being disloyal to the spirit of N°5, which is simplicity and power, a sense of purity and intensity, and we started to talk about that very untouchable thing, which is 'What if it was colored?' And what would be the color that would make sense for N°5? Well, red is such a strong color for Chanel – blood or life of passion – and for Gabrielle Chanel, it was a very important color for her. We decided that actually the only color that we would put next to N°5 that would makes sense was red.
Q:

Well. Mademoiselle Chanel, in so much of the iconic imagery and the communication, she's wearing red.

A: Yes, she loves life, she loves love.
Q:

2021 is N°5's 100th anniversary. How will you communicate that? With another color? Or perhaps another man like Brad Pitt?

A: No, I think neither, but interestingly it smells very, very good on men. I used to wear it but I've gone back to 22, which is actually even more feminine than the N°5, it's a cousin of N°5, but some men do wear N°5. I remember when we launched with Brad Pitt, so many people actually thought that it was a new N°5 for men, which we've never done. Interestingly, Chanel is a feminine brand, but the number-one fragrance for men in the world is Bleu Chanel. For me, Bleu is kind of an answer to N°5 – it's that man that has the capability of seeing things that other people don't, and this is something that defines the N°5 woman, that ability to project yourself into an area where people don't see you, like being able to stretch your limits and not submit to what the world wants you to do, but to write your own script. But we never thought about doing a N°5 for men.
Q:

And last question, what's your favorite sorbet?

A: Chocolat. Chocolat noir.