"Do you think it is too much if I wear these all on the same day?" Twenty-four years ago, Martin Scorsese's Casino imprinted in our memories one of the most addictive high-jewelry moments in cinema – the iconic scene where a young Sharon Stone (aka Ginger) gets showered with a trunk of Bvlgari jewels by her newlywed husband, Robert De Niro (aka Sin City's kingpin, Ace). And three decades before that, Ingrid Bergman went to Bvlgari's Via dei Condotti boutique and picked out the parure she would wear in the 1964 movie, The Visit. This year, the Roman jeweler's love and passion for the silver screen, from Hollywood to Cinecittà Studios, is the object of the dedicated 2019 collection, Cinemagia. More than 100 pieces of cinematic masterpieces created by the jeweler to the stars were presented earlier this year in Rome, and who better than Lucia Silvestri, Bvlgari's Creative Director, to take us through her dreamy creations.
INTERVIEW WITH LUCIA SILVESTRI
Q:

Bvlgari dedicated its 2019 collection to the world of cinema and, more precisely, chose to celebrate the intricate bond between '50s Hollywood and Cinecittà Studios. What was your creative process in translating this glamorous world of filmmaking into jewelry pieces?

A: We have always had a very strong relationship with the world of cinema, which had its maximum splendor with the Dolce Vita period. Hollywood divas that came to Rome always passed through our boutique in Via dei Condotti. With Cinemagia, we have consolidated this bond and we have made the Dolce Vita theme our own. For the creative process, let's say that it lasts at least a year and a half, even two years, from receiving the brief from our marketing team. Then I discuss with my team and from there we can start drawing, looking for stones, meeting with goldsmiths. It is real teamwork. Without, all would not be possible.
Q:

You refer to The Wizard of Oz in one of the pieces, why did you pick this specific movie?

A: We enter the dreamlike world, a world made of wonders, of dreams, of desires. It is the common thread of the collection that is linked to the art of cinema and the art of jewelry. It wasn't easy but I enjoyed it a lot.
Q:

What is your favorite movie and why?

A: Gattopardo [The Leopard], a movie that made the history of Italian cinema. The settings, the costumes, the beauty of the actors... Still today, it is exciting to watch the dancing scene again and again.
Q:

The collection also introduces the Farnese Blue diamond, what are your plans for the stone?

A: The Blue diamond is a stone very close to us, it has its own all-Italian history. It belonged to Elisabetta Farnese, an Italian princess who became queen of Spain, a brave and astute woman with a strong personality. She would have represented the Bvlgari woman perfectly. Furthermore, Bvlgari intuited its unexpressed potential and suggested to recut the diamond in order to enhance its chromatic appeal and improve its clarity. This skillful operation took 10 intense months. No extra facet was added to this natural treasure and yet, amazingly, its dark shades disappeared. The original Farnese Blue diamond was thus upgraded by GIA and ranks now as 'type II B', the rarest kind of diamond found in nature, with only 0.5 percent of all mined diamonds falling into this category.
Q:

Are there any particular historical stones you've always dreamed of creating something with?

A: The medieval Black Prince's Ruby, which is in reality a 170 carats spinel. There is a charm and a story that makes it immortal.
Q:

Can you tell us more about the Action necklace? Is it the first time you are using black zirconium in one of your creations?

A: Indeed it is the very first time we've used black zirconium for high jewellery pieces. We manage to achieve this creation thanks to our goldsmiths, who are true artists and, in my opinion, also engineers. When they received the drawing, they started thinking of the best material to use in order to create the perfect jewel. A jewellery piece has always to be light if we want it to be worn. Our goldsmiths are true geniuses – their mission is highly complicated.
Q:

What inspired the Fairy Wings necklace? Which kind of woman did you create it for?

A: Here again, we enter the theme of dream maker. I designed the Fairy Wings necklace for a romantic woman due to the colorful stones that inspired me.
Q:

Is there a particular movie where Bvlgari jewels are prominently featured? A famous scene where the actress is wearing one of your pieces?

A: For sure, the movie Casino, featuring the gorgeous Sharon Stone. In this specific movie, the scene where she is lying on the bed with all the Bvlgari jewels is one of my favorite and dreamed scene. The perfect endorsement!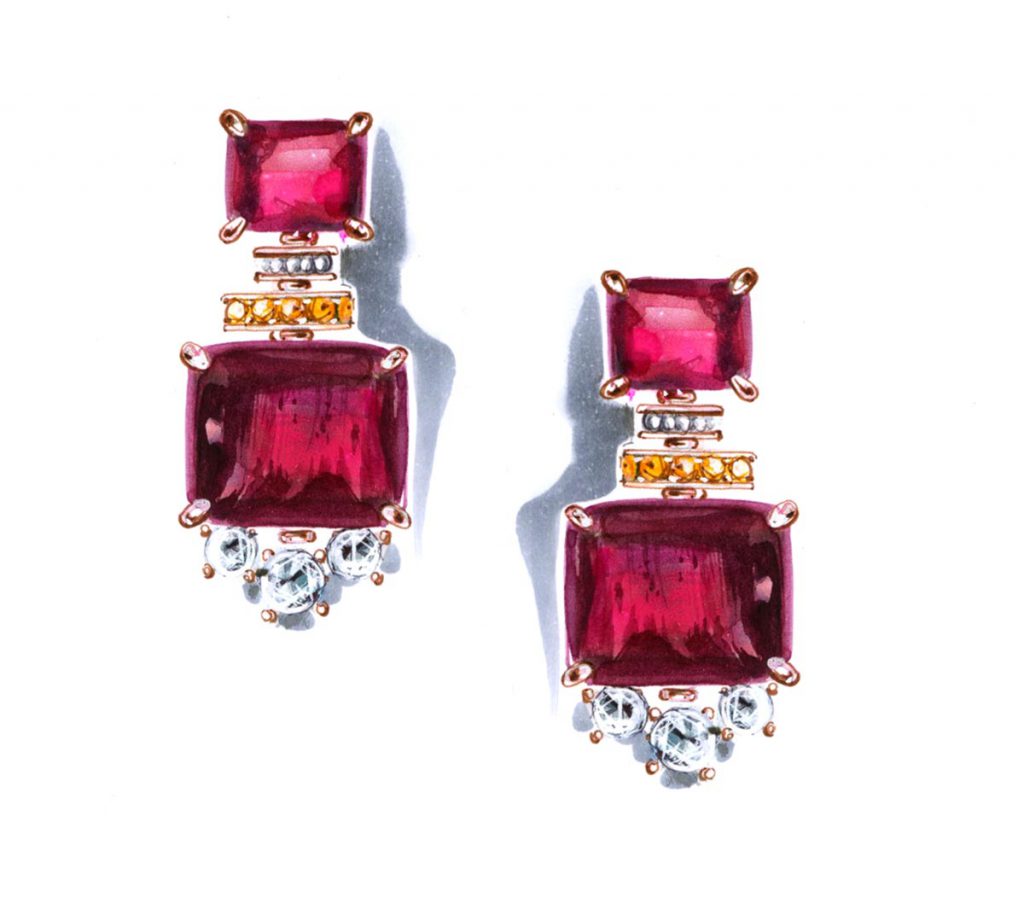 Q:

Elizabeth Taylor, as the ultimate Bvlgari muse, has always been at the center of every event, collection, and has inspired many pieces along the years. The Cleopatra necklace is a nod to her leading role in that movie. Were you more inspired by the actress playing her character or the character herself, Cleopatra, Queen of Egypt?

A: In fact, it is Elizabeth Taylor as a woman who inspires me and my team of designers. Her passion for jewels, her way of wearing them is incredible. The sapphire sautoir is today part of our Heritage Collection and is one of my favorite jewels. Then, considering that the theme of this year is Cinemagia, how could you not be inspired by the movie Cleopatra?! Moreover, we have been the first to make a necklace that is a real poncho, a great work of goldsmith manufacturing. It's like wearing a second skin.
Q:

Do you have any colors or gemstones you absolutely would never put together?

A: No. I like experimenting with new combinations of colors. The main rule is always to have in mind to keep harmony among colors in the final piece.
Q:

Do you have a favorite red stone, apart from rubies? Why?

A: All shades of reds – spinel, rubellites – go very well with other colored stones.
Q:

You have traveled all over the world to source the most incredible gemstones for your collections. What was your most memorable 'hunting' trip?

A: There was one trip to Mozambique that is memorable. I was visiting a ruby mine and suddenly I found myself walking on a carpet of rubies; one of the most exciting experiences of my life.
Q:

Do you have any superstition related to your work, or to a particular piece you've created?

A: I have rituals, of course. For instance, I never travel without my talisman, a star sapphire. In addition, I never wear black when I have to bargain for a stone.