It would be ever so easy to open with a comment about her beauty – a description of the kind or quality of her appearance, as if in some kind of directly relative correlation with her worth. But this is a new day. And Margot Robbie is one of the most talented actors of it. Anyone who can hold their own (nay, steal the spotlight) on-screen alongside Leonardo DiCaprio – ostensibly one of the greatest actors of all time – on the set of her first ever big-budget Hollywood blockbuster (Martin Scorsese's The Wolf of Wall Street) deserves more praise than this journalist could possibly put into 200 words.
For an older generation, comparisons will definitely be drawn with the 'bombshells' of '80s and '90s Hollywood – Robbie's character Naomi Lapaglia in The Wolf of Wall Street, and her Harley Quinn in David Ayer's Suicide Squad parallel, for example, with Michelle Pfeiffer's Elvira Hancock in Brian De Palma's Scarface and her Catwoman in Tim Burton's Batman Returns respectively, two and three decades before.
But unlike women of that era (Kim Basinger's Wikipedia page reads, "Hailed as a sex symbol of the '80s and '90s"), Robbie's public persona isn't delineated by the objective perspective of men. As I said, it's a new day, and in her suite at La Réserve Hotel in Paris, Robbie the business woman is here to promote her latest partnership with Chanel and its latest fragrance, Gabrielle Chanel Essence.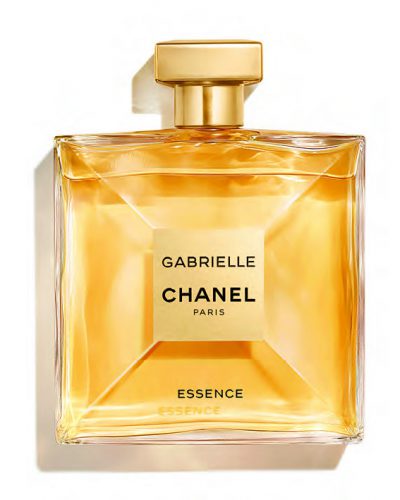 Q:

What has the experience been like so far?

A: Amazing. I'm so grateful. I've had the opportunity to work with people like Nick Night during the photo and video shoot for the campaign. And that's just one example. I look at the experience as another opportunity to work with talented people. Plus the fragrance is obviously beautiful, but it's also oddly fitting with where I feel I am at in my life right now – the idea of this soft sensuality, this warmth, this aura, this strong woman, who's strong because of her femininity not because she's good at hiding it. I feel like I'm at a point in my life where I appreciate that.
Q:

How does it feel to be 'the face' of a fragrance, particularly in today's climate?

A: Gabrielle Chanel, the woman, was hugely influential – she created this legacy that's actually shaped society for generations. I've built a very personal relationship with the brand over the last few years – they feel like family now – and I'm inspired by everything they do, whether it's the collections or the fragrances, it's always coming from a place of 'What mattered to Gabrielle Chanel?' You can actually go to the archives online and learn about her childhood and her young years and her life, and you can see the correlation between that and the designs she created. You can see how Karl [Lagerfeld] paid homage to those themes and elements in all of his collections. Today, you can see Virginie paying homage to Karl and Gabrielle in her collections. That importance that they place on legacy – in such a respectful, loving way, really celebrating everything that came before, but particularly celebrating Coco Chanel's life – I think an association with that could never be anything but a powerful and empowering thing.
Q:

Being a part of this legacy, do feel an affinity with Gabrielle?

A: I suppose the aspect of her that combines the creative woman that she was with the businesswoman that she was too. I'm both an actor and a producer and I love that I can do both – I love the more pragmatic side and the more creative side – and I guess that excites me about her, that she did both.
Q:

And what's your relationship with beauty in general? Are you a beauty girl?

A: You mean like products and stuff?
Q:

Yeah exactly.

A: Well, I'm Australian so skincare's been drilled into me since the day I was born – to protect your skin from the sun. There's a hole in the ozone layer right above Australia, so one in three people get skin cancer, probably more now because those were the stats when I was in school, so probably more than that.
Q:

That's terrifying.

A: I know it really is. But yes, so a big one is sunscreen, and I don't ever tan with my face in the sun but I think it's Australia in general both when it comes to fashion, beauty, and lifestyle, it's all about being a little bit laid back and natural. I guess that was the place that I was coming from, but now I'm abroad and of course in my career I get to work with extremely talented hair and makeup artists, whether it's creating a character or just a public appearance. I guess i"m exposed to a lot more of the beauty world than I ever would have been, and it's actually fascinating.
Q:

And are you a perfume person? Like a spray a day?

A: I am! I wear perfume everyday and this might be unusual, but I also pick a perfume for every character I play, so it actually plays a really big part in my life. And I'm not saying that because we obviously have to talk about [laughs]... like, it genuinely does mean a lot to me and I hope everyone has such strong associations with the scents of different times and places in their lives. It's such a nostalgic pleasure. I can smell the perfume I wore years ago and be instantly transported there. Likewise with characters, when I smell that scent, when I put it on that day, I can quickly go into that character and be able to leave it behind at the end of the day as well.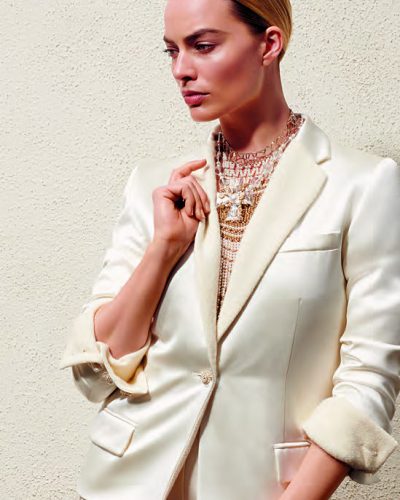 Q:

What performance are you most proud of to date?

A: Probably Tonya. Aside from the producing side of it, I'm obviously extremely proud of that because it was our second film and I feel we really delivered – we really delivered the movie we wanted to make, and it doesn't always turn out that way. You might have the best intentions but it's hard for all the ingredients to come together as perfectly as you hope they will every time. But for that movie, I was like "yes, that's exactly what we wanted it to be." And performance-wise it was definitely the first time that I'd ever played a lead character too. I'd never played a role with a storyline that was focused solely on the character that I was playing. I've usually played a supporting role to a protagonist or an ensemble role, but this was the lead role and the movie's edited to follow Tonya's storyline. It's definitely the first time I've watched a cut of the movie and been completely happy with my acting.
Q:

About that, and the characters you've played – what has been your most challenging performance to date?

A: Of course, they're all hard in their own ways, but perhaps with Queen Elizabeth I, I had the least to relate to her – it was so far from anything that I could ever experience, so I couldn't just say, drive out to Long Island and hear how Long island Housewives talk. It's like I just I had no correlation with that world or what it meant to be queen and to have those sort of pressures on my shoulders, so I think that she probably took me the longest to get into.
Q:

Which actors or performances inspire you today or have inspired your work over the years?

A: So many, oh my god this this answer could get very long. I'll try to be concise about it. I enjoy watching actors be extremely fearless and unpredictable on screen, like watching Peter Sellers at the beginning of Lolita, like, "What is happening?!" "What's he doing?!" You know? That gets me every time; I have the utmost respect for them. I think Cate Blanchett has been someone throughout my life where I feel like she's committed 110 percent to her character – I don't see her, I see a character every time. That was always the the kind of actor I wanted to be, to have people be able to disassociate their knowledge of me when they're watching a film because they're truly with the character.
Q:

You spoke a bit about perfume helping you hop into character. Are there any other things that help with that?

A: Well, hair, makeup and wardrobe is an obvious answer but it really does help, because it alters your physicality and when your physicality is altered you move differently, you speak differently, which is immediately helpful. Beyond that there's no quick trick, it's all the work and preparation and research.
Q:

For you, what's the most rewarding aspect of acting?

A: When my friends say I did not see you in that at all. That's when I'm most proud. And I've had my friends say that to me a few times. "I just wasn't thinking of you at all. I watched the whole movie and I didn't think of you once." And I'm like "Great, that's perfect!" But they often say 'Except when you laugh," [laughs] "Because your laugh sounds like you but other than that I didn't see you in there at all."
Q:

And producing is obviously very different from acting. For you, what's the difference emotionally?

A: Yeah, it's totally different. I love it, I really love it. And obviously it works in tandem with the acting side of things, but the job starts much earlier. With acting, you do your prep and then you do the production side and then you do a little bit of post and press. But the producing starts years before all that, and goes on years afterwards. You're still looking at camera agreements two to three years after movies come out.
Q:

You must feel a lot more invested in it?

A: You are. You care about it so much, and it's also you handing it over to someone else and hoping that they – you know, you hire a director, and you just pray that they care about it as much as you do. Or an actor, and there's a role that you've helped develop and thought about and spent all this time casting and you hand it to somebody. You just hope that they care about it the way you want them to. It's kind of like raising a child and then giving it away.
Q:

And finally, what's your favorite flavor of sorbet?

A: I love mango.