The first time I met Peter Philips was a surprise. I was having dinner for the first time with Bernhard Willhelm during one Paris Fashion Week, and Bernhard quite cryptically told me another man would be joining us. If you know Bernhard, you'd understand the potential guests my imagination conjured up. I was even a tad anxious, but as Andy Warhol once said, "One's company, two's a crowd, and three's a party." I am broadly about that adage.
So off I trotted, to an unassuming Italian spot in The Marais (When in Rome!) and there the two of them were. As Peter has since told me, people don't invite him out for dinner as often as you'd expect. Perhaps they're intimidated. He operates at the very upper echelons of his industry – Chanel, and now Dior – and his Instagram account is filled with his art, backstage fashion, and hangouts with the most beautiful women in the world; he's with Bella, he's with Cara, he's with Kendall. He also travels like cabin crew – a recent three- day snapshot documented his red-eye flight to New York for a shoot, then a red-eye flight back to Paris for a show, then a red-eye flight to Shanghai. Fortunately, Dior doesn't fly its makeup master economy.
Prior to dinner I knew both an awful lot about him, and also nothing about him at all. I didn't know, for example, that he is the most affable and interesting dinner date – easy to talk to, and easy to laugh with. We all left the restaurant with that nice rosy glow good company leaves you with, and we have been friends ever since.
Then the Red Issue, and meetings about what we might include – why, lots of rouge and strong red lips, of course. And then, who better than Peter Philips to bring all that together? Of course, we also caught up with the fabulous man to discuss his loves, his hates, and everything red.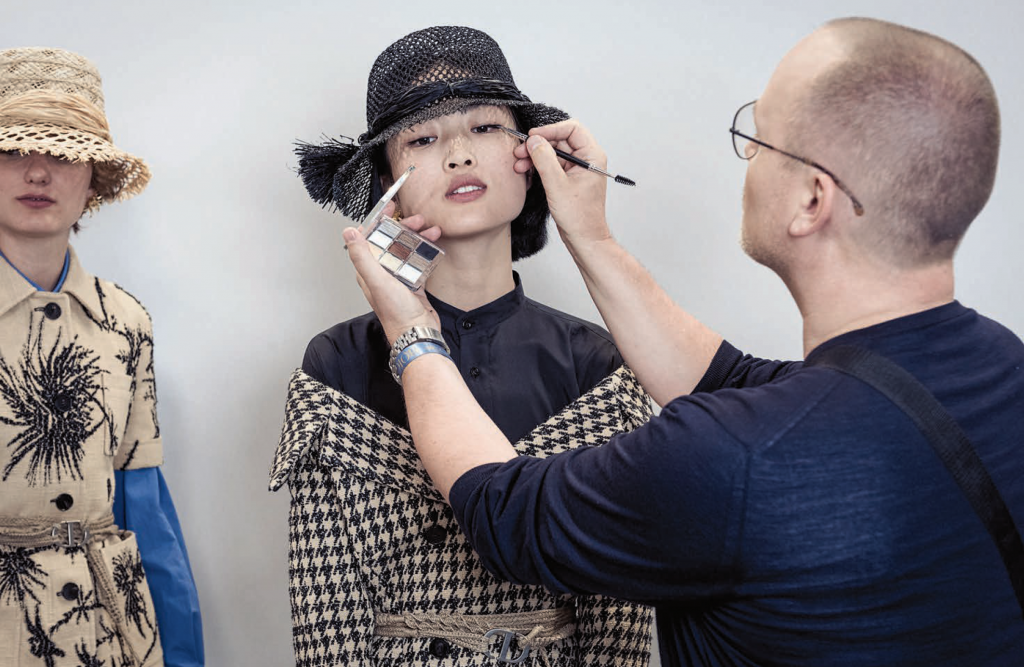 Q:

Hello Peter, how are you?

A: I'm happy.
Q:

Excellent news – happy is good.

A: Yes, all is good. Working hard, traveling a lot. We moved, so I'm now in the east, which is not ideal, because I live in the center of Paris, in Le Marais, but I've got a beautiful office.
Q:

I've been keeping up with all your travels, it all looks very fabulous. And I think I'll be back in Paris for men's, so if I am, and you're there too, we'll do dinner.

A: Fantastic. You pay [laughs].
Q:

Okay, fine. But let's talk shop, and jump right in on red. Why is the color so important?

A: Well, a red lip or a red cheek are very sensual, and historically, beauty symbols, because they represent how your love rushes through your veins when you're young and excited and full of life, you know? So that's what it is – red is the color of life. It's the color of your blood. It's your color when you're excited. It's the color you turn when you're angry. It's the color of passion. And that might sound cliché, but that is actually what it is. And also, the color red stands out. It has very important cultural meanings.
Q:

Do you have a favorite shade of red?

A: With makeup, it depends who's wearing it, what skin tone, what the rest of the look is. I love a classic red. I've been doing this for so long, so a lot of reds have passed through my hands and they all have something, you know? Texture, transparent/non- transparent, shiny, glossy, sparkly, matte – whatever you want to do with it. There are just so many different reds now.
Q:

And I guess they each sort of evoke something different?

A: Absolutely. I mean, a fresh tomato red is much cheekier and more playful; when you have a dark red, like a burgundy, it's much more dramatic. And blood red is much more intimidating than a cherry red. But it does depend how you wear it.
Q:

Tell me a bit about your position at Dior – what are your favorite aspects of the job?

A: My favorite aspect of the job is the fact that I get a lot of liberty – I can still do editorials, I can do campaigns, I can do shows, and I'm also developing products. I'm present from the conception to the birth of a lipstick and I'm part of the whole journey until it's in a woman's handbag. I get to travel a lot, I meet a lot of people. I do men's and women's too, so it's a very complex job, but that's what makes it exciting.
Q:

From watching it all on Instagram it looks very glamorous. Is it as glamorous as it looks?

A: Well, last week I slept three consecutive nights on red-eye flights between Paris, New York, and Shanghai – work, shows, shoots, interviews... etcetera, etcetera, and it's all amazing. But, physically, it is hard work. I started doing makeup 20, 25 years ago – a backstage job. Then, for me, makeup was a lot of behind the scenes – it's a closed set. But more and more the backstage became front stage – because of social media, all of the communication, TV, newspapers, magazines, the whole thing – it totally turned into a spotlight job, which was never my ambition. And that also added an extra workload to what I expected my job to be. It's very interesting, and I've grown into it, but it means that I can't be grumpy ever [laughs], because there're cameras everywhere. I can't look like crap. I have to look great, also, at 52. Like I said, last week I spent three nights in an airplane. The next days, I had to be in front of cameras talking about fresh skin and effortless beauty. I love doing it, and it is glamorous in its way, but it is a job.
Q:

You mentioned the great products. What are your favorites right now?

A: In the Backstage line, we just launched Face & Body Glow, which I love. It has no pigment in it, it's only got pearlessence in it, so it matches gorgeously on every skin tone. It doesn't make you shiny, like a shiny crystal ball, you just look radiant. It's like it switches on a light from the inside. All my assistants, all the makeup artists I work with, they love it.

Q:

Ten years ago, the makeup trend was very matte, and now there seems to be a lot of high shine. Would you call those trends?

A: The biggest trend in makeup is makeup itself.
Q:

Huh?

A: I mean, everything goes these days. Because people have discovered that makeup is fun. Before, makeup used to be something that was dictated, and for most people it was even a stress factor. But now, because of all the shared expertise via social media, 234 to tutorials, to brands like ourselves with our platforms to talk about makeup – with all that exchange of expertise, women and men are much more confident about playing with makeup. So one woman will look great in matte, perhaps with strategically placed highlights; another woman will feel great with fully glowing skin; another one will look fantastic with a high shine. Sometimes there are trends; sometimes people get carried away in a wave of contouring or in glow and I've been there too. You should see pictures of me in the '80s; I mean, I felt gorgeous, and I was skinny as hell and I'd dye my hair every month with a different color, and I had shoulder pads – the whole shebang. Five years later, I was so ashamed of those pictures, I hid them in the bottom of a drawer. And 20 years later, I picked them back up, and I was like, "My God, wasn't I fabulous?" And that's something that will always happen in makeup, styling, hair. The important thing is the moment itself.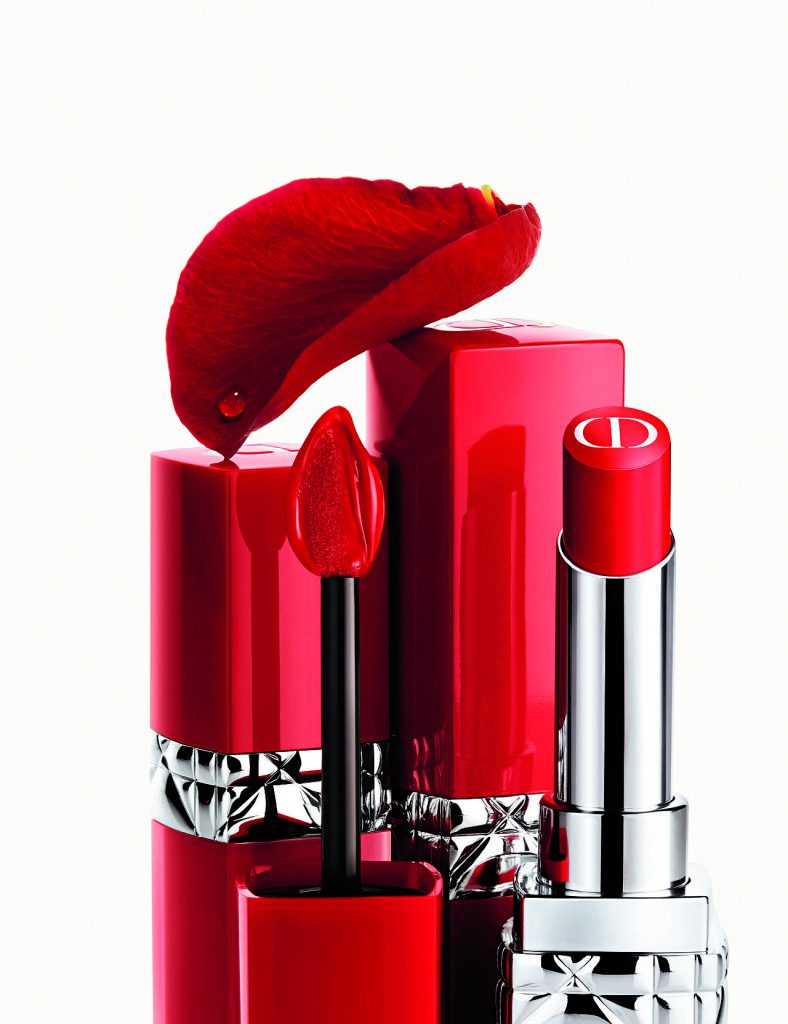 Q:

You said "men and women". Is there a big future in men's makeup?

A: There were some amazing men's makeup lines that were launched many years ago but they always had a short life because they were so associated with femininity or being gay. Now with social media, unlike before, the barriers are gone and everybody can express themselves in the way they want. Some men's makeup looks are very feminine. But you can be like the most straightforward guy with a normal job and still have a little bit of a glow on your face, just a little drop of something in the morning. For example, we've got an amazing product, and it's one of my secrets – the Capture Youth Glow Booster. I'm 52 and everyone I know always tells me, "Oh, my God. Your skin looks amazing. Your skin looks great." When I tell them l use the Glow Booster, they all get it, they all wear it.
Q:

If you had to choose a highlight of your career so far, Peter, what would it be?

A: Well! Talking to you.
Q:

Apart from me.

A: Apart from you, honestly, I don't know. I've been very, very blessed. I mean, I found my calling kinda late. I went to school for a very long time. I didn't really touch a makeup brush until I was 26 or 27. So that's late, because first, I did graphic design for advertising. Then I went to fashion design school, which I loved. And that's when I discovered the world of the backstage by going to the shows in Paris. And that's where I got tickled by everything I saw with makeup and the whole backstage movement at a show, you know. And the moment I actually decided, 'Okay, this is what I want,' the moment I actually did my first shoot and I found my passion, I went full speed and I didn't stop. So I guess discovering that passion, the moment I realized – that would probably be the highlight for me.

Q:

FAVORITE CITY IN THE WORLD?

A: Tricky. I'm gonna say something very Miss Universe and go with my hometown, Antwerp.
Q:

ONE GUILTY PLEASURE?

A: Any sweets. I can't have lactose, so no more ice cream, which is probably lucky, but definitely sweets. I also like salty, so maybe just food. I love to eat.
Q:

FAVORITE SNACK?

A: Pringles, I can go through a whole pot, voilà! And then sometimes I think I'm clever, and I say I'm only going to buy a few of those mini ones, but I just also finish them in one night.
Q:

WHAT'S YOUR FAVORITE MOVIE QUOTE?

A: "Snap out of it", in Moonstruck, said by Cher.
Q:

SOMEONE YOU ADMIRE?

A: That's tricky because there are a lot of people I admire. I always keep going back on the same person. I was very privileged to meet her in real life. And I think she, makeup-wise,is an icon.
Q:

WHO?

A: Her life is, I mean, its unbelievable.
Q:

WHO?

A: It's Sophia Loren. The woman looks insane. She's got a very bizarre face. But she turned her uniqueness into being a beauty icon.
Q:

ONE TIME YOU'VE BEEN STAR STRUCK?

A: You know, actually, I still get a bit starstruck and a bit uncomfortable in the beginning when I see women like Naomi Campbell or Kate Moss. Even Bella. And I know Bella. I'm less starstruck with them when I have to work with them. Because then, they're in my chair and it's a relationship, in front of you with no makeup, maybe a bit more vulnerable. But then at an event or something and they turn up, I still feel like a little kid.
Q:

NEXT HOLIDAY DESTINATION?

A: I used to go to an escape, isolate myself to some sort of a spa resort, but I have a new formula. This summer I took my mom on holiday to Vienna. I want to do more short trips and take my mom with me so she gets out of the house, or with a friend.
Q:

WHAT IS YOUR FAVORITE FLAVOR OF SORBET?

A: That's something I can have because there's no milk in it. Coconut sorbet. Voilà!