AN ORGIASTIC BANQUET
From BDSM ball-gag ice pops to hors d'oeuvres served through holes in walls à la glory, Telfar's Florentine debut was an odyssey of debauchery.
The last time I dined inside the great hall of Palazzo Corsini during Pitti Uomo in Florence was an entirely different experience. A dinner held by Brunello Cucinelli was as elegantly sport-coated an affair as your imagination could possibly muster, with penguin-suited silver-service waiters placing the finest handmade ravioli delicately on fine china plates, followed by spoonfuls of a rich salsa di pomodoro quite celebrated in menswear circles.
Brunello's dinners are one of the most anticipated events at Pitti each season, and while often held at a seemingly endless succession of magical Medici palaces in the surrounding Tuscan countryside, it has also been held here a few times. But as we arrived at the sprawling courtyard overlooking the sparkling Arno, to celebrate Telfar's selection by Pitti Immagine as special guest of their 98th edition, something unusual. I couldn't put my finger on what it was, but something was very different. Whatever is was felt exciting and a little forbidden, like we were teenagers exploring some abandoned house beyond a sign that said "No Trespassing". And as we walked up the vast marble staircase, through the bridged walkway flanked by towering windows, and into the soaring hall with its vaulted and heavily frescoed ceiling, it struck me: there is no security.
At Brunello's dinners past, black-suited men replete with earpieces stood sentry at doorways not intended for use by guests, but this evening, the run of Palazzo Corsini was ours. Indeed, as evening dipped into night and Champagne was served and sipped, guests ran through the halls, or skipped, or tripped the light fantastic. Guests smoked fragrant blends of things, stood on terraces under the bright full moon's light. Room after room unfolded, some filled with tens of king-sized beds installed for guests to use as they would. Huge screens with heady projections played, and red light suffused space after space. Dinner, served at a round table with a performance area in the center was like a Renaissance feast – indulgent and eclectic. A claw-foot tub filled with fruits and wine stood to the side just for gits and shiggles, and on the floor next to that, the stuffed head of a boar. Then the food, catered by "queer cooking collective" Spiral Theory Test Kitchen followed; whole roasted lambs that would give pause to even the most carnivorous flexitarians were passed.
Red wine was poured and spilled along with meat juices that stained the bright white tablecloth a variegated panoply of pinks. Ball-gags fashioned from Sicilian pomelo-infused spherical ice pops – complete with leather ties for those wanting to really immerse themselves in the evening's sensory pleasures – were served as a palate cleanser, recalling that most infamous of gimps in Quentin Tarantino's Pulp Fiction. Scorpion veal heart carpaccio with a blood fountain for dipping was laid on the tables, while hors d'oeuvres such as quail eggs dipped in olio di gaggiolo laid in wasabi and shiso leaf dust were served directly to mouths by black-latex-gloved hands through 'glory holes'. IKYN.
The dinner, titled #bloodshed, was attended by just one or two members of the press, the rest just friends of the family. Performers Carrie Stacks and Hawa took to the table's center and performed music to accompany the comestibles, as Solange Knowles bobbed her head approvingly. She wasn't there to perform. She was there as a friend, as everyone was, presumably welcome to or not. And here, the stroke of genius: that stained table, like a snap-shot of debauchery, would serve as the runway for Telfar's fashion show the following evening.
After dinner, the revelers broke off into the various bedroom installations or the pop-up club in another palatine suite, where a DJ played and drag queens danced and pole platforms played host to many during the night. I bowed out, in gob-smacked astonishment, to my hotel room and a wild dream-filled sleep. Somewhere between that sleep and the subsequent train to Milan, I asked Telfar artistic director Babak Radboy all about the twisted- dream-like evening.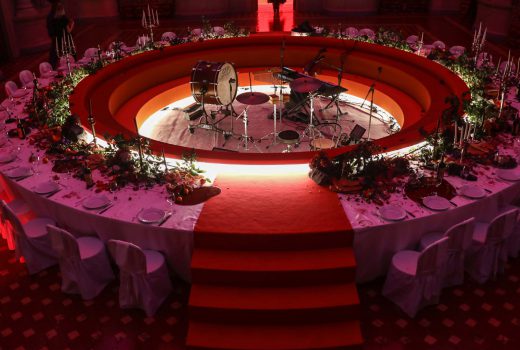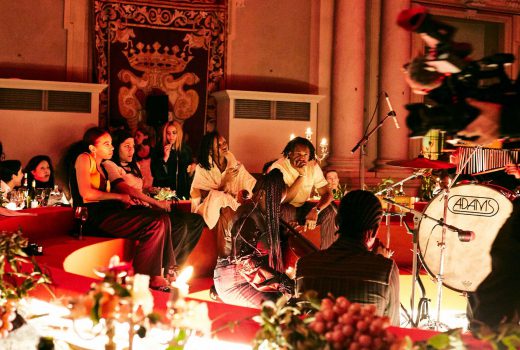 Q:

First, I want to ask about the secret party. Last time I was in that palazzo it was security guards and suits. This was a very different kind of event. How did the idea for that come about?

A: that there should be no security. The idea is kind of just a way to distill what it is we are always doing in our work and the way the word 'show' could kind of give you the wrong impression about it. You know, it's not for you, it's for everyone... It's all the things you don't see — we wanted to focus on those things. When you exhibit something, there is a question of the audience that materializes, and in the fashion industry that audience ends up forming a context for what we make — but a context that we are constantly having to upend.
Q:

What was the process for getting something like that done in a city like Florence?

A: Our producers were losing their minds. But it's a lovely place to lose your mind.
Q:

When did the food concept come together?

A: I was invited upstate to the house of a friend who was hosting a Spiral dinner. I wasn't actually excited to take part in it, which is a testament to how powerful the experience was for me. Over the course of this meal – over the courses of the meal — I started to get this perspective on a self-imposed separation I had between struggle and pleasure. It really affected me and I spoke with one of the founders, Precious about it that night; we began corresponding.
Q:

The event was so intimate – it seemed like such a tight circle – but there were beds like art installations and projections and a DJ...what was the thinking behind that intimacy?

A: There wasn't actually a DJ — there was a DJ booth, but lots of our friends are DJs. There were microphones at every place setting and our friends were singers; there were instruments and our guests were musicians. There were cameras and our guests were photographers and film directors. The invitation was to have dinner. There was no obligation to perform or produce. Even the big screen was just a collective TV channel that everyone contributed links to — like when you show your friends video clips at a party or whatever.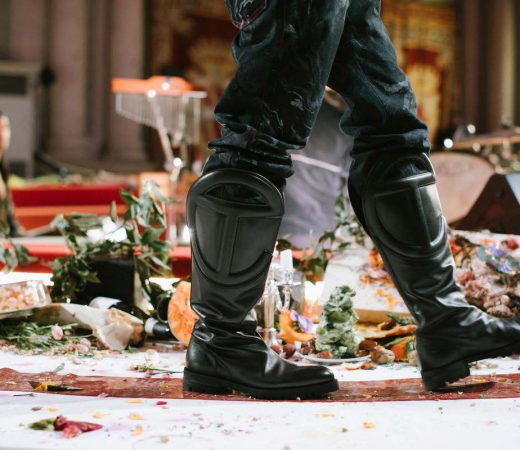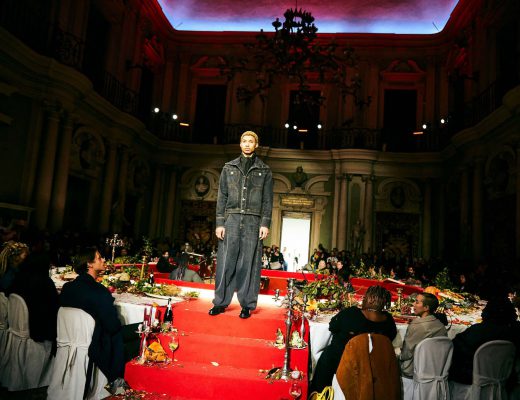 Q:

At your fashion shows, there is always a sense of intimacy, in that they always come across as the collaboration of a group of friends, whether it's Carrie Stacks or Hawa or Dev Hynes and Ian Isiah. How has that evolved over the years?

A: I think it has been honed but has been quite consistent. When we put the audience in a cage for SS19, it was a reaction to how well received our FW18 show was — that maybe we felt it was too well received. Or too easily consumed. Then the next season we had our models fall off a stage and be carried by the audience. This season we didn't plan our show at all and instead put a lot of energy into a private dinner beforehand. I think it is pretty direct what these things mean.
Q:

Tell me about Florence and how that came about and why you decided to present your show at Pitti?

A: Well — we were invited! First off, they pay for the show. Secondly, it means something to be invited in relation to the history of fashion... and third, they are lovely hosts. It was better than most art institutions, to be honest.
Q:

Telfar as a brand has been challenging norms for as long as I can remember, from gender, to queer culture, to White Castle, to the CFDA, Paris, Pitti... Tell me about that.

A: Well, I guess we are not so much against norms and hegemony — we are more into occupying them, or infecting them. That proximity between affection and infection. It's the same distance between being in opposition and being opposed... Just by being born. Once in a while the two coincide.
Q:

What are your hopes for the brand?

A: We want to have a business structure as different as the rest of what we do.