Pathé Ouédraogo – aka Pathé'O – is one of Africa's leading designers. Through his work, he supports fashion that is entirely Made in Africa. His pride in his roots, combined with Nelson Mandela's wish to embody a strong and progressive African identity, gave rise to a kinship between his brand and the late president of South Africa. His emblematic shirts in bright colors and bold prints have become symbolic of the African continent and its cultural diversity. For her Cruise 20 collection, Maria Grazia Chiuri invited the designer to create a special shirt. Through this exclusive piece, Pathé'O pays tribute to Nelson Mandela.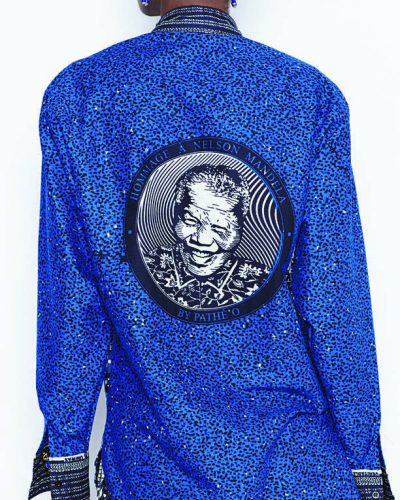 Q:

Tell me about the design process.

A: I designed the shirt using the pattern for the ones Nelson Mandela wore, which are rich in motifs and colors. I worked with moussessété. It's a new fabric we designed and developed. It's a true invention by the house of Pathé'O. On the back of the shirt, we represented President Mandela to pay homage to him. It was important to me to do a piece that featured his likeness. It's a two-tone creation: checks in front and moussessété in back, decorated with the portrait of Nelson Mandela.
Q:

What does this homage to Mandela represent for you?

A: For me, I had to pay homage to President Mandela because if the house of Pathé'O is known around the world today, above all it's thanks to him. I never would have imagined being able to dress him someday. He's such an important, emblematic person. Meeting President Mandela, speaking with him, and dressing him were exceptional moments in my life.
Q:

How did you meet him?

A: I met him twice. The first time was in 1998 during the Organization of African Unity heads of state summit. When I met him, he was alone in his villa with an interpreter. It was extraordinary. He looked after me; he really listened to me. I understood that this gentleman was truly larger than life.
Q:

What memories do you have of being his couturier?

A: It was always a great pleasure to send him his shirts, often through his daughter Zindzi, who is now an ambassadress, or through the South African embassy in Ivory Coast. Every time, President Mandela wrote a note to thank me. That impressed me; it's another facet of this great man. What was buying a shirt to Nelson Mandela? He had this gratitude for commoners like us. I will never forget those gestures.
Q:

What will you take away from this experience?

A: What impressed me the most about this adventure was how Dior's team came to the Pathé'O studios. The artistic director, Maria Grazia Chiuri, is fabulous. When people are simple, talented and brave, you can see it. She liked what we were doing right away. She was curious to know how we work, and that touched me.
Q:

Uniwax presented you with the Ciseaux d'Or award in 1987, and now you have this experience together with Dior. How was that?

A: Well, actually, I've never stopped collaborating with Uniwax. Of course, Dior has written a new page in our shared history. Dior was passionate about making this wrap with Uniwax in Ivory Coast. That's a true added value for Africa and for Uniwax.
Q:

Can you tell me about the significance of Wax?

A: In Ivory Coast, Wax wraps tell many stories. For example, 'My husband is able', 'The three ministers', 'If you go out, I go out', 'Kondjè Kondjè', 'Chili leaf'... Almost all known Wax fabrics have a name. For a woman, 'My husband is able' means that her husband is capable of buying her that wrap. With 'If you go out, I go out', a woman replies to her husband by warning him that if he goes out too much, so will she! These are names and expressions that reflect our daily life.
Q:

So they're like written history?

A: Wraps are Africa. They carry a lot of meaning; a powerful signification. Wax motifs are images or drawings made by our artisans. Often we see representations of animals or kings. When we make a piece of clothing, we are shedding light on our culture. Clothes always bring us back to craftsmanship.
Q:

What are your hopes for the future?

A: For the development of our industry, I would like African politicians to support designers. That's why I salute the House of Dior, which is offering us the opportunity to express ourselves all over the world. Africa has the capacity to shine through its artisans.