Once upon a time, in a faraway land, lived a diva with dazzling dreams, who packed her silver suitcase with four accessories to take her places: a bag that shows the future, a lantern to light-up her adventure, a doll to keep her company and jewels made out of rubies. This winter, our icons section narrates the stories of the next hot items you'll wish will be under the your tree.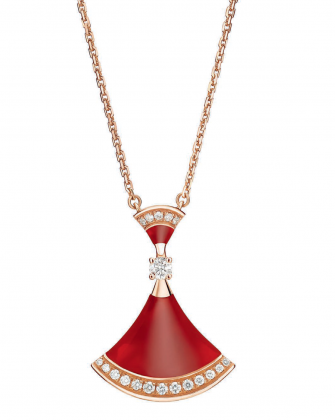 DIVA'S DREAM
BVLGARI
Tell us what jewelry you wear, we'll tell you which screen diva you are. Italian jeweler Bvlgari has dressed some of the most fascinating Hollywood screen sirens and Italian glamour queens, from Elizabeth Taylor and Ingrid Bergman to Monica Vitti and Sophia Loren. And you're next. The Divas' Dream collection and its recognizable fan motif is the Roman Maison's homage to its cherished muses' legacy, merging the aesthetics of one of the Eternal City's architectural marvels, the Baths of Caracalla, with the very craftsmanship and signature femininity that defines the brand.
With these new additions to the collection, the iconic shape shines brighter than ever. Delicate and sophisticated, opaque stones and precious gems adorn necklaces and earring parures, with fans each flaunting a singular color, and all set with a series of pavé diamonds. The one that caught our eye? An everyday carnelian pendant placed on fine rose gold. Hundreds of years of Roman heritage, re-interpreted by the Maison, hoping to find their way to your jewelry boxes just in time for the festive season.
BEST FRIEND, BEST DRESSED
DOLCE & GABBANA
This Christmas, lucky little ones will be able to receive more than just your regular long-awaited and much-coveted doll. Courtesy
of Dolce & Gabbana, little girls with big dreams turn into full-on style queens. Produced by Giochi Preziosi, four exclusive dolls with the style and beauty of the House's signature codes are available throughout the world. With salon-fresh hair and a wardrobe to challenge the most stylish closet, the 48cm dolls sport realistic and detailed characteristics, groomed and crafted to perfection.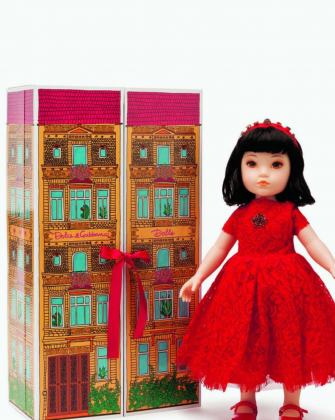 From facial features exclusively designed and selected by the brand's makeup artists and hair sewn from the silkiest material, to pencil- sharp silhouettes assembled with the finest fabrics and ornamented with hand-sewn and hand-applied details to further enhance the high-volume glamour, these transporting, beautiful confections are the best-dressed best friend they'll want to keep for a lifetime.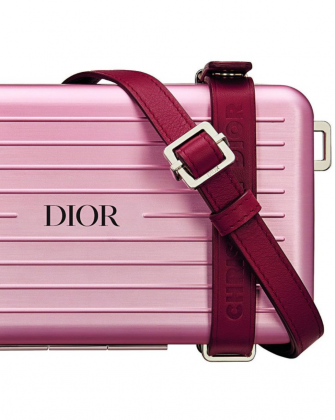 DIOR TAKES FLIGHT
DIOR X RIMOWA
Kim Jones has taken Dior Men on a whirlwind adventure since he took the reins of the label's menswear creative direction last year, enrolling some of his closest allies and friends to create exciting collaborations, from Tokyo-based designer Yoon Ahn, who now fronts the men's jewelry department, to collaborations with artists Raymond Pettibon, Alex Foxton, or Daniel Arsham.
This time, the fashion wunderkind has teamed up with luggage manufacturer Rimowa to release a series of some of the German house's signature hard-case accessories, as seen earlier this year at the Dior Men SS20 space-meets-desert collection.
With five aluminum silhouettes, both the 'Cabin', 'Trunk', and 'Hand Case' are embossed with the brand's 'Dior Oblique' motif, a trademark logo invented by Marc Bohan in the 1960s for the House's first luggage, and will be available in silver, matte black and gradated blue. The 'Personal', a smaller portable version, comes in an additional pink color (our favorite, always). But that's not it. There's also a 'Champagne Case', made exclusively by special order that features a space on top for your finest bottle of bubbly. Put it right at the top of your Christmas wish list.
RED LANTERN
HERMÈS
Greek god Hermes was believed to lead and protect travelers as the patron of roads. In the same spirit, French leather house Hermès is keeping tabs on its Olympian homonym with an object created to cater to the modern wanderer: the Lanterne d'Hermès. Both a luxurious, covetable treasure and utterly practical home furnishing, the accessory was imagined and designed by French conceptual artist Yann Kersalé whose work with lights can be admired all around the world, from the Sony Center in Berlin to the ceilings of the Louvre Abu Dhabi and Opera Nouvel in Lyon, France, both in collaboration with architect Jean Nouvel.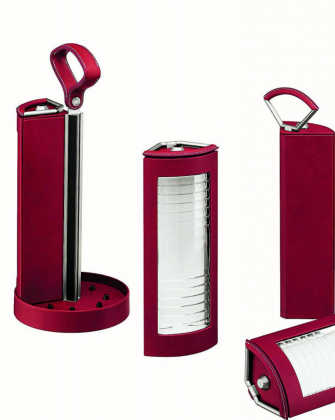 Inspired by lighthouses and the nautical world, the red lantern is an elegant four-in-one lamp, comprising four detachable light sources wrapped in water-resistant leather and assembled to form one scintillating piece of luxury. Battery-powered with an eight- hour life, it's the décor-slash-art proposal that gets you out of the common vernacular and into the world of Hermès. What you do and where you go with it is up to you.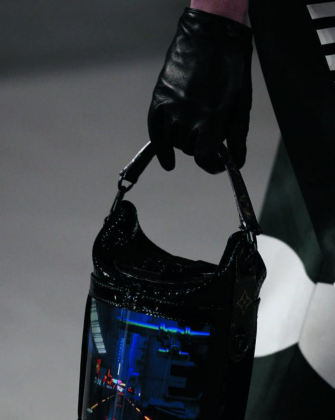 LOUIS TO THE FUTURE
LOUIS VUITTON
When word came in that Louis Vuitton was planning to present its Cruise 2020 collection at John F. Kennedy airport's TWA Flight Center, we knew we were in for a journey. The Eero Saarinen- designed vast bird-shaped structure met Nicolas Ghesquière's '80s punk glam army, which was chic, but that's not all. The guests arrived, the models walked, and the showstopping LED tote happened – the idea: making the handbag an extension of your smartphone. 
Eero Saarinen was probably watching from above with a thumbs up. Named the "canvas of the future", the two OLED-mounted prototypes are both equipped with functioning and moldable flexible video screens, made of the same LED lights found in some smartphones and allowing for 1920×1440 resolution. In short, with this new connected accessory, the House's digital endeavor is reaching new heights, merging both hi-tech and illustrious craftsmanship, and scrambling perceptions of what the limitations of a luxury fashion House might be. Ghesquière described his showspace as "a modern marvel that will impress generations to come." Seems like he also pretty much summed up his new design. Add us to the waiting list!
KING OF GEMS
VAN CLEEF & ARPELS
What would you do with 3,000 carats of the highest quality
rubies? Take cues from Van Cleef & Arpels' 'Treasure of Rubies' collection, celebrating the precious red stone. Once the property of princesses and duchesses, rubies now take center stage in the collection's 60 extraordinary pieces. Each piece comes crafted from the most exceptional stones, meticulously collected over the years by the Belgian Maison and carefully selected by the Van Cleef & Arpels craftspeople for their deep inner glow and the beauty of their color. At the forefront of the jeweler's most iconic creations since 1906.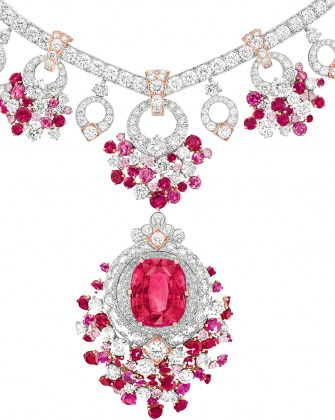 The enduring characteristics of the precious gem are here transformed, enhanced, highlighted and turned into powerful jewels bearing the energy of the commonly called 'King of Gems'. Thicker than blood and pricier than the clearest diamonds of the same carat, rubies are the luxury look good enough to taste…